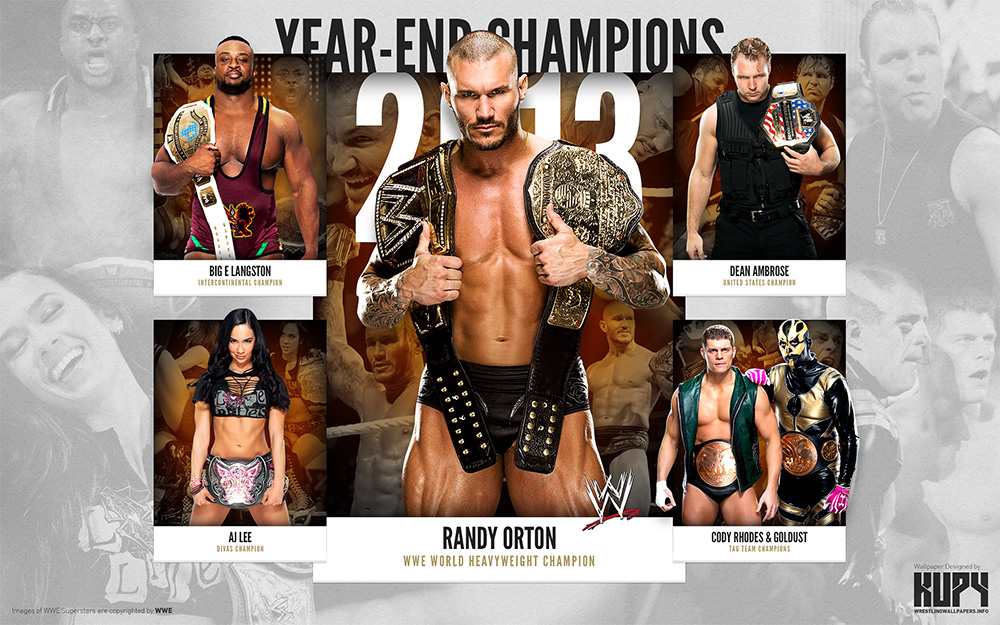 WWE Year-End Champions 2013 wallpaper
1920×1200 | 1920×1080 | 1680×1050 | 1600×900 | 1440×900 | 1280×1024 | 1280×800 | 1024×768 / iPad / Tablet | PS Vita wallpaper | PSP wallpaper | Mobile / iPod Touch / iPhone wallpaper | iPhone 5 wallpaper | iPhone 5s wallpaper | Facebook Timeline Cover
Overall, it has been a great year for WWE. New bonafide WWE Superstars were made, rivalries were intense and sometimes, edgy..but more importantly, new champions were crowned. Granted I would've preferred Daniel Bryan as WWE World Heavyweight Champion, I must say Randy Orton is doing a fine job being the top and most hated heel champ. The face of the WWE is now back to being the top dog in the industry and from the looks of it, he ain't going to lose the WWE World Heavyweight Championship soon.
How about Dean Ambrose? Well, for some reason, he is not being booked to defend the US Championship on a constant basis. Weird. Big E Langston is giving new life to the midcard division by simply becoming the Intercontinental Champion. At least, the likes of Fandango, Curtis Axel and Damien Sandow are targeting his prestigious IC belt. AJ Lee has dominated the Divas division, period. Not even the ratings of Total Divas can take the belt away from her. Who's gonna stop her in 2014? I'm thinking Paige. Lastly, the Rhodes brothers are tearing it up in the Tag Team division. I like how they're not unbeatable but look to be the team to beat because of their natural chemistry. Goldust has been rejuvenated and Cody is killing it with mastery of his wrestling skill set.
Again, 2013 has been good to wrestling fans. There were certainly a couple of ups and downs..but 2014 is shaping up to be a sleeper and has a shot on bringing a new start of a golden era in WWE (at least) again. I dunno exactly why, but my gut tells me we're in store for an exciting roller coaster ride in a few months time! With that said, Kupy Wrestling Wallpapers gives you its last 2013 wrestling wallpaper featuring all of WWE's current champions!
As for 2014, you guys are 100% assured of more awesome wrestling wallpapers here at Kupy Wrestling Wallpapers! Just bring it, 2014!
Also, I would like to take this opportunity to ask for help for my fellow countrymen who are suffering right now due to Super Typhoon Haiyan / Yolanda. Your help will go a long way in giving emergency aid to these people. Please make a donation today to any of the following: Red Cross Philippines | Red Cross US | Red Cross UK. Thank you so much!
Let's get more likes for Kupy Wrestling Wallpapers on Facebook @ www.facebook.com/KupyWrestlingWallpapers!
Disclaimer: Images of WWE Superstars belong to and are copyrighted to/by WWE. There is no copyright infringement intended.
Posted on December 31st, 2013 at 8:40 pm by Mr. Kupy
Posted in
AJ Lee
,
All Designs
,
Big E
,
Cody Rhodes
,
Dean Ambrose
,
Goldust
,
I) Wrestling Wallpapers
,
Randy Orton
,
WWE Divas
Tags:
AJ Lee
,
Big E Langston
,
Cody Rhodes
,
Dean Ambrose
,
Goldust
,
I) Wrestling Wallpapers
,
Randy Orton
,
Rhodes Dynasty
,
wrestling
,
WWE
,
WWE Wallpapers
,
Year End Champions