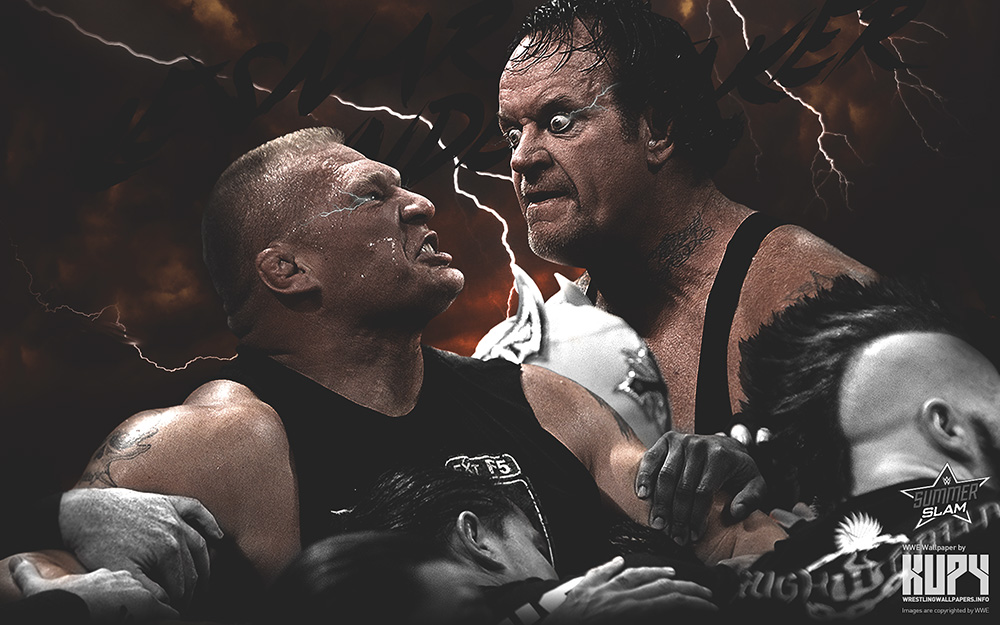 Undertaker vs. Brock Lesnar SummerSlam wallpaper
1920×1200 | 1920×1080 | 1680×1050 | 1600×900 | 1440×900 | 1280×1024 | 1280×800 | 1024×768 / iPad / Tablet | PS Vita wallpaper | iPhone 6 / iPhone 6 Plus wallpaper | iPhone 5S wallpaper | Facebook Timeline Cover
It was the epic brawl between Undertaker and Brock Lesnar that started WWE SummerSlam on the right track. The rematch, the revenge, the fight. Hell will break loose and no one can stop it. All the WWE Superstars that tried to stop these 2 a few weeks ago know exactly how impossible that task was.
Brock Lesnar claims he will 'kill' Undertaker. With Taker's age and ring rust, I wouldn't be surprised. The Phenom ain't walking out of SummerSlam without any form of injury. At worst, this match may even prematurely (yes, Sting please) end Undertaker's wrestling career. I just hope despite Taker's limitations, him and Lesnar will be able to provide a worthy main event. No need for technical wrestling. This has all-out brawl written over it. As for the winner, Brock's my pick. Probably an interference from Sting will cause a loss for Undertaker but honestly speaking, I don't think it will happen. Survivor Series? YES.
Lots of requests for this one. It's finally here guys – Undertaker vs. Lesnar SummerSlam 2015 wallpaper!
Like Kupy Wrestling Wallpapers on Facebook!
Disclaimer: All images belong to and are copyrighted to/by WWE. There is no copyright infringement intended.
Comments
comments
Posted on August 12th, 2015 at 5:25 pm by Mr. Kupy
Posted in
All Designs
,
Brock Lesnar
,
I) Wrestling Wallpapers
,
The Undertaker
,
WWE SummerSlam
Tags:
Brock Lesnar
,
I) Wrestling Wallpapers
,
The Undertaker
,
wrestling
,
WWE
,
WWE SummerSlam
,
WWE Wallpapers
One response to "NEW WWE Summerslam: Brock Lesnar vs. The Undertaker wallpaper!"