Lots of rumors as to who shall be the one (or two) making a WWE comeback are running rampant right now. My bet is Y2J. For me, the Prophetless and Do You Understand quotes in the last 2 videos were the best hints WWE could give away. Punk calls himself a prophet and Y2J is clearly gunning for him especially when Punk declared himself the Best in the World. Then again, it could be a swerve. I like the mystery.
Actually, I'm good with any of the guys in this design I posted. Brock Lesnar? There's always a lil' chance. The McMahons? Control. Force. The Undertaker? I don't need to explain. Could be Matt Hardy and Lita too. Or the debut Brodus Clay – I HOPE NOT.
We'll finally see tomorrow who shall it be.
Disclaimer: All WWE-related images belong to and are copyrighted to/by WWE. There is no copyright infringement intended.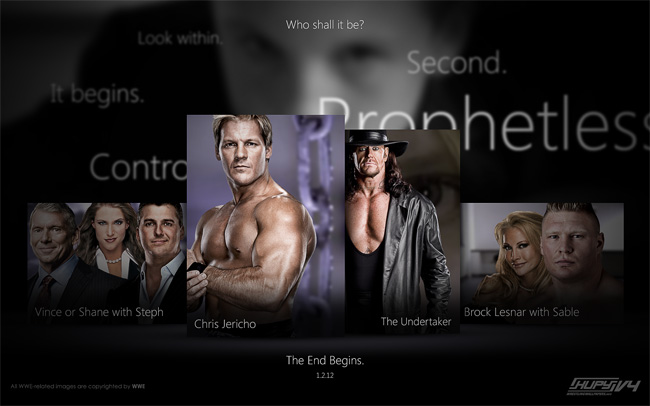 Click here for the full version
Posted on January 2nd, 2012 at 3:33 pm by Mr. Kupy
Posted in
All Designs
,
Brock Lesnar
,
Chris Jericho
,
II) Deviations
,
Sable
,
Shane McMahon
,
Stephanie McMahon
,
The Undertaker
,
Vince McMahon
Tags:
Brock Lesnar
,
Chris Jericho
,
II) Deviations
,
Sable
,
Shane McMahon
,
Stephanie McMahon
,
The Undertaker
,
Vince McMahon