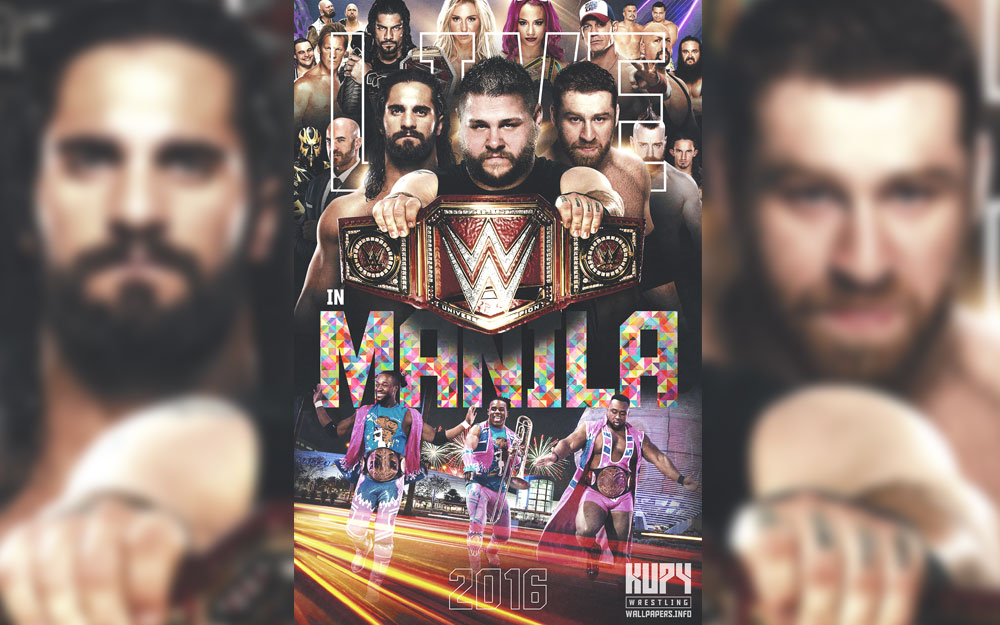 2016 WWE Live in Manila Poster
Click here for the mobile version
In just a few hours, WWE will be holding an event here in Manila and we Pinoy fans are excited as f*ck! It has almost been a decade since WWE last came here. We're definitely due for some kickass show!
I made this poster a few days ago in the hopes of having a chance for a meet and greet with the likes of New Day, Seth Rollins, Kevin Owens and John Cena. Sadly though, that possibility looks bleak now after losing a local contest that will give an opportunity for a couple of fans to meet the WWE Superstars in person. Lucky peeps they are!
Anyway, I'm posting the web version of this design if you'd like to have it as your mobile wallpaper (sorry, no desktop versions for this one). If you like to have this one printed, just let me know via Facebook or if we bump into each other tomorrow at MOA before the event 🙂 I can bluetooth you a copy and you can have it printed at Fax and Parcel, also in MOA (they charge P100 per print for 12×18 posters). Get the mobile version here.
Follow Kupy Wrestling Wallpapers on Instagram | Like Kupy Wrestling Wallpapers on Facebook
Disclaimer: Images belong to and are copyrighted to/by WWE. There is no copyright infringement intended.
Posted on September 8th, 2016 at 5:59 pm by Mr. Kupy
Posted in
All Designs
,
Big E
,
Big Show
,
Bo Dallas
,
Braun Strowman
,
Cesaro
,
Charlotte
,
Epico
,
Goldust
,
I) Wrestling Wallpapers
,
II) Deviations
,
John Cena
,
Karl Anderson
,
Kevin Owens
,
Kofi Kingston
,
Luke Gallows
,
Neville
,
New Day
,
Primo
,
Roman Reigns
,
Sami Zayn
,
Sasha Banks
,
Seth Rollins
,
Sheamus
,
The Club
,
The Shining Stars
,
WWE Live in Manila 2016
,
Xavier Woods
Tags:
Adrian Neville
,
Big E
,
Big E Langston
,
Big Show
,
Bo Dallas
,
Braun Strowman
,
Cesaro
,
Charlotte
,
Chris Jericho
,
Epico
,
Goldust
,
I) Wrestling Wallpapers
,
II) Deviations
,
John Cena
,
Karl Anderson
,
Kevin Owens
,
Kofi Kingston
,
Luke Gallows
,
mobile wallpaper
,
Neville
,
New Day
,
Primo
,
Roman Reigns
,
Sami Zayn
,
Sasha Banks
,
Seth Rollins
,
Sheamus
,
The Club
,
The Shining Stars
,
wrestling
,
WWE
,
WWE Wallpapers
,
Xavier Woods