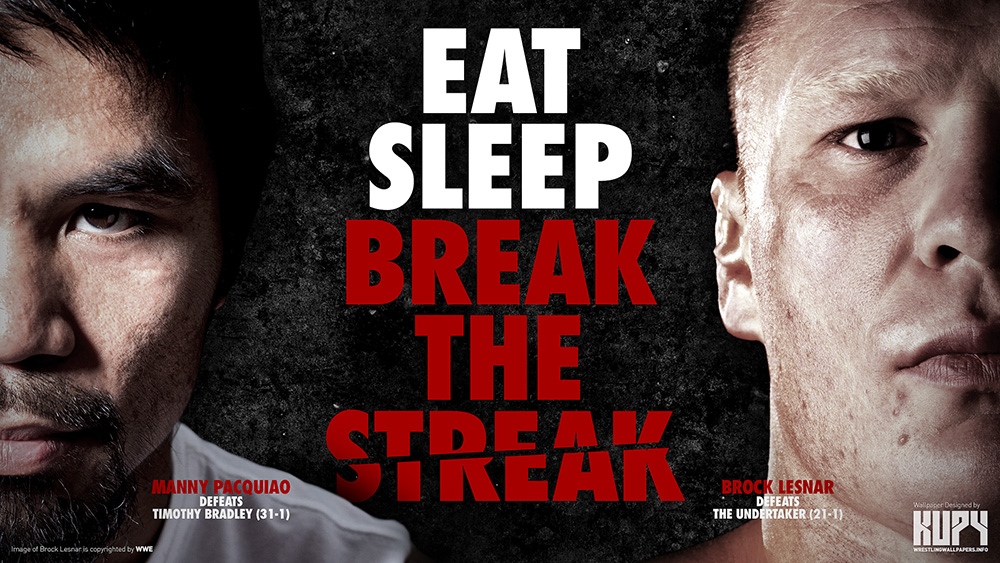 Pacman/Lesnar Break The Streak wallpaper
Click here for the full-resolution wallpaper!
Kupy Wrestling Wallpapers presents a quick special wallpaper about streaks being beaten both in wrestling and boxing worlds. Big differences in both sports (one is sports entertainment though) but a lot of similarities too. Special congrats to Manny Pacquiao from this proud kababayan!
Like Kupy Wrestling Wallpapers on Facebook!
Disclaimer: Image of Brock Lesnar belong to and is copyrighted to/by WWE. There is no copyright infringement intended.
Posted on April 13th, 2014 at 6:27 am by Mr. Kupy
Posted in
All Designs
,
Brock Lesnar
,
Eat Sleep Break The Streak
,
I) Wrestling Wallpapers
,
III) Specials
,
Manny Pacquiao
Tags:
boxing
,
Boxing Wallpapers
,
Break The Streak
,
Brock Lesnar
,
I) Wrestling Wallpapers
,
Manny Pacquiao
,
The Undertaker
,
Timothy Bradley
,
wrestling
,
WWE
,
WWE Wallpapers