After buying 3 PS3 games this October alone, I subjected myself to some major credit card payin' next month. Nonetheless, when WWE SmackDown vs. RAW 2011 releases later this week (October 28 I believe), my looming credit card issues won't stop me from buying this baby. It'll be my first WWE game for PS3 since I decided not to buy SVR 2010 before. I hope I won't get disappointed with this game, even if it's getting early rave reviews from gaming sites.
Play first, work later. That'll be my new motto, for the whole November at least haha 😛
With that short blog about videogame lovin', Kupy Wrestling Wallpapers brings to you its version of the SVR 2011 cover – the newest WWE Smackdown vs. RAW wallpaper featuring Edge, The Miz, The Undertaker, Sheamus and current WWE Champion, Randy Orton!
Disclaimer: All wrestler/logo images and likeness belong to and are copyrighted to/by WWE. There is no copyright infringement intended. Credits: Deron Kamisato, Jason Kandel & PhenomForever.com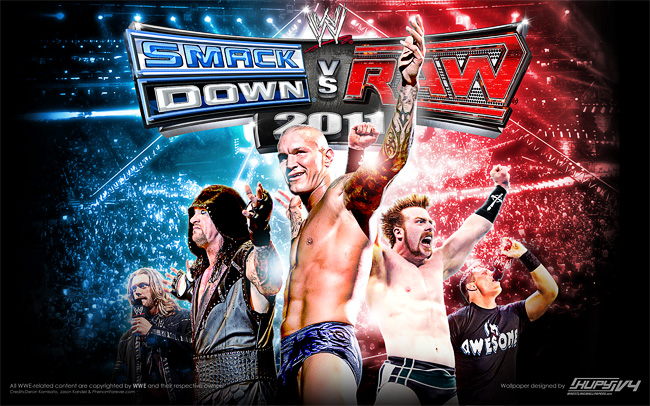 2011 WWE Smackdown vs. Raw wallpaper
1920×1200 | 1680×1050 | 1440×900 | 1280×1024 | 1280×800 | 1024×768 / iPad | 800×600 | PSP wallpaper | iPod Touch / iPhone wallpaper | 3D wallpaper
Posted on October 25th, 2010 at 7:10 am by Mr. Kupy
Posted in
All Designs
,
Edge
,
I) Wrestling Wallpapers
,
IV) Videogame Wallpapers
,
Randy Orton
,
Sheamus
,
The Miz
,
The Undertaker
,
WWE Raw
,
WWE Smackdown
,
WWE SmackDown vs. Raw 2011
Tags:
Edge
,
I) Wrestling Wallpapers
,
Randy Orton
,
Sheamus
,
The Miz
,
The Undertaker
,
wrestling
,
WWE
,
WWE Raw
,
WWE Smackdown
,
WWE SmackDown vs. Raw
,
WWE Wallpapers