Antonio Cesaro (formerly/popularly known as Claudio Castagnoli in the indies) is the new WWE United States Champion! This marks a fresh, good start to his long career in the major league. The man reeks of a different kind of charisma and features a brutal and unique wrestling skill set that many have been victimized, like Santino Marella. I specially like his move where he tosses his opponent in the air and throws a European uppercut while the guy is falling. Looks like it packs a lot of pain! His attacks are unconventional and are meant to truly hurt his opponents.
Now that Cesaro has found a permanent spot on our TV screens, look for the guy to quickly and steadily gain momentum. He's built for the long run and the main events. We'll see if he and Aksana make a bigger impact on SmackDown in the next year or so. Or is it possible that he brings back the European Championship title to gain more heel heat? Seems like a good idea to me 😛
Download Kupy Wrestling Wallpapers' newest WWE wallpaper featuring the Antonio Cesaro as United States champ and his sultry valet, Aksana!
Disclaimer: Images of Antonio Cesaro and Aksana belong to and are copyrighted to/by WWE. There is no copyright infringement intended.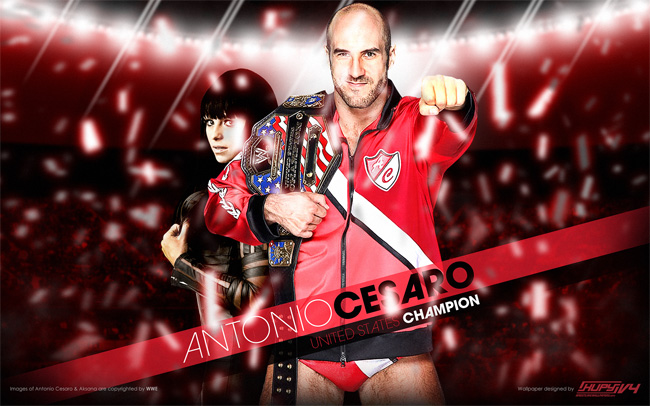 United States Champion Antonio Cesaro (w/ Aksana) wallpaper
1920×1200 | 1920×1080 | 1680×1050 | 1600×900 | 1440×900 | 1280×1024 | 1280×800 | 1024×768 / iPad / Tablet | PS Vita wallpaper | PSP wallpaper | Mobile / iPod Touch / iPhone wallpaper | 3D wallpaper | Facebook Timeline Cover