With the emergence of CM Punk plus him feuding with the recently-assigned COO Triple H and Kevin Nash, the "destiny" of Alberto del Rio and his Cena-centric feud with, of course, John Cena, Miz and R-Truth were left in the rubble. Everything they have said recently are true. These 2 were main-eventing PPVs, chasing and defending championships, constantly getting TV time and cutting epic promos before they were set aside for more trending WWE Superstars though it wasn't really their fault 'coz you have to ride that hot streak of certain superstars like CM Punk or Alberto del Rio. Now that they have a common ground or cause, these 2 loudmouths are ready to cause chaos again not only on the tag team division, but on the whole WWE programming itself. Sick of being underutilized, R-Truth and Miz will be seeking to reach the top of the mountain again and plan to stay there for a long while.
Kupy Wrestling Wallpapers brings to you the newly-formed tag team of R-Truth and The Miz, simply called as Awesome Truth! And they're ready to wreak havoc into your screens again! Download this wrestling wallpaper now!
Disclaimer: Images and logos of R-Truth, The Miz and WWE Superstars belong to and are copyrighted to/by WWE. There is no copyright infringement intended.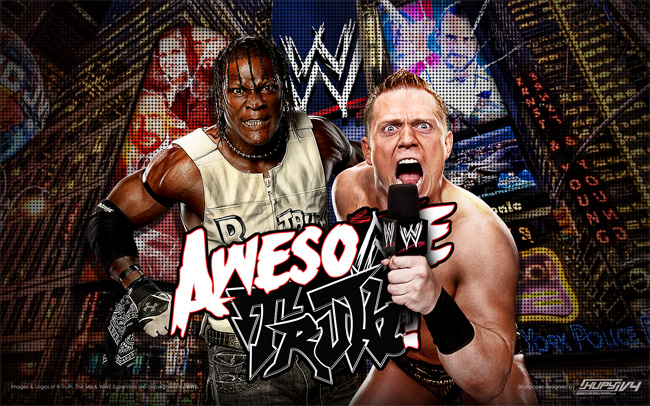 Awesome Truth! R-Truth and The Miz wallpaper
1920×1200 | 1680×1050 | 1600×900 | 1440×900 | 1280×1024 | 1280×800 | 1024×768 / iPad / Tablet | 800×600 | PS Vita wallpaper | PSP wallpaper | Mobile / iPod Touch / iPhone wallpaper | 3D wallpaper
Posted on September 18th, 2011 at 10:53 pm by Mr. Kupy
Posted in
All Designs
,
Awesome Truth
,
I) Wrestling Wallpapers
,
R-Truth
,
The Miz
Tags:
CM Punk
,
I) Wrestling Wallpapers
,
John Cena
,
Kevin Nash
,
Stephanie McMahon
,
Triple H
,
wrestling
,
WWE
,
WWE Wallpapers