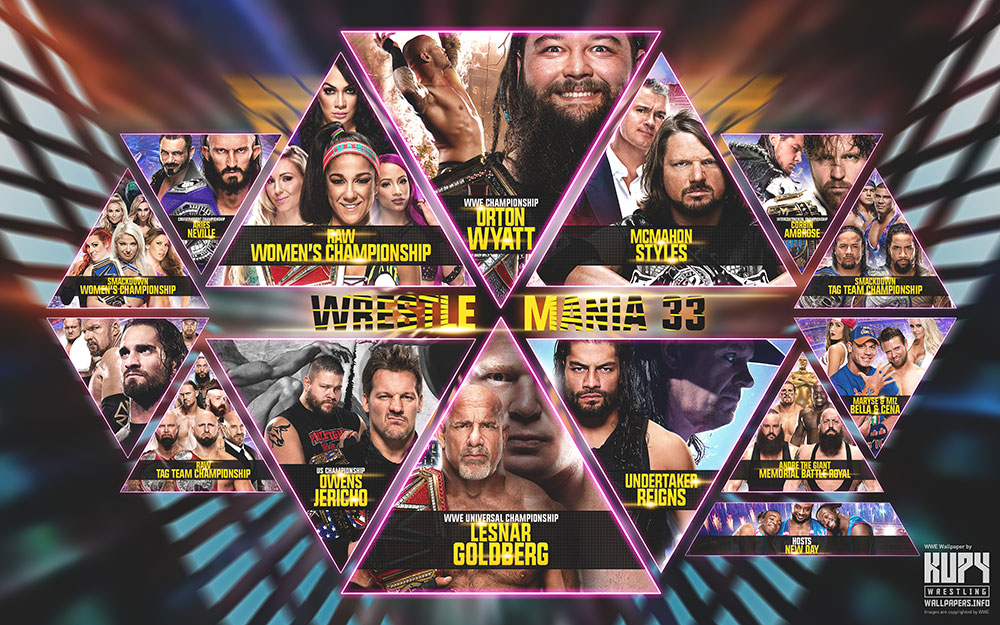 WWE WrestleMania 33 wallpaper
4K | 2560×1600 | 2560×1440 | 1920×1200 | 1920×1080 | 1680×1050 | 1600×900 | 1440×900 | 1366×768 | 1280×1024 | 1280×800 | 1024×768 / iPad / Tablet | iOs / Android mobile wallpaper | PS Vita wallpaper | Facebook Timeline Cover
I know, I know. It's been a month since I made a wallpaper and yes, I apologize for that. Work and some personal errands have taken the brunt of this month, not to mention the lack of match confirmations for WrestleMania 33. 2 weeks before the event and yet we still don't know if Seth and HHH are going to have a match or if the SmackDown Tag Titles will be defended at all (congratulations btw to The Usos for winning the titles last Tuesday). Well, I decided to proceed anyway and finish this WrestleMania 33 wallpaper today. Is Braun Strowman even gonna compete? I just assumed he'll be entering the Andre the Giant Memorial Battle Royal.
Btw guys, we'll be having a short vacation in Japan on 1st week of April so I'll be out again for a while. I'm not even sure if I'll be able to catch WrestleMania there haha. Hope you guys like this WrestleMania 33 wallpaper.
Follow Kupy Wrestling Wallpapers on Instagram | Like Kupy Wrestling Wallpapers on Facebook
Disclaimer: Images belong to and are copyrighted to/by WWE. There is no copyright infringement intended.
Posted on March 23rd, 2017 at 7:14 pm by Mr. Kupy
Posted in
AJ Styles
,
Alexa Bliss
,
All Designs
,
American Alpha
,
Apollo Crews
,
Asuka
,
Austin Aries
,
Baron Corbin
,
Bayley
,
Becky Lynch
,
Big Cass
,
Big E
,
Big Show
,
Braun Strowman
,
Bray Wyatt
,
Brock Lesnar
,
Carmella
,
Cesaro
,
Chad Gable
,
Charlotte
,
Chris Jericho
,
Dean Ambrose
,
Enzo & Cass
,
Enzo Amore
,
Goldberg
,
I) Wrestling Wallpapers
,
Jason Jordan
,
Jey Uso
,
Jimmy Uso
,
John Cena
,
Karl Anderson
,
Kevin Owens
,
Kofi Kingston
,
Luke Gallows
,
Maryse
,
Mickie James
,
Mojo Rawley
,
Naomi
,
Natalya
,
Neville
,
New Day
,
Nia Jax
,
Nikki Bella
,
Randy Orton
,
Roman Reigns
,
Sami Zayn
,
Samoa Joe
,
Sasha Banks
,
Seth Rollins
,
Shane McMahon
,
Sheamus
,
The Club
,
The Miz
,
The Undertaker
,
The Usos
,
Triple H
,
WrestleMania 33
,
Xavier Woods
Tags:
4k wallpaper
,
AJ Styles
,
Alexa Bliss
,
American Alpha
,
Android wallpapers
,
Apollo Crews
,
Asuka
,
Austin Aries
,
Baron Corbin
,
Bayley
,
Becky Lynch
,
Big Cass
,
Big E
,
Big Show
,
Braun Strowman
,
Bray Wyatt
,
Brock Lesnar
,
Carmella
,
Cesaro
,
Chad Gable
,
Charlotte
,
Chris Jericho
,
Dean Ambrose
,
Enzo Amore
,
Goldberg
,
HD wallpaper
,
I) Wrestling Wallpapers
,
Jason Jordan
,
Jey Uso
,
Jimmy Uso
,
John Cena
,
Karl Anderson
,
Kevin Owens
,
Kofi Kingston
,
Luke Gallows
,
Maryse
,
Mickie James
,
Mojo Rawley
,
Naomi
,
Natalya
,
Neville
,
New Day
,
Nia Jax
,
Nikki Bella
,
Randy Orton
,
Roman Reigns
,
Sami Zayn
,
Samoa Joe
,
Sasha Banks
,
Seth Rollins
,
Shane McMahon
,
Sheamus
,
The Club
,
The Miz
,
The Undertaker
,
The Usos
,
Triple H
,
WrestleMania
,
WrestleMania 33
,
wrestling
,
WWE
,
WWE Wallpapers
,
Xavier Woods