Teddy Long or John Laurinaitis? Who's gonna seize control of WWE's top 2 shows? With power hanging on the balance, these 2 GMs have assembled their WrestleMania 28 teams that will battle for their personal GM choices. The babyface Team Teddy consists of Santino (captain), Kofi Kingston, R-Truth, Zack Ryder, The Great Khali and a bit of a surprise, Booker T. As for the heels, Team Laurinaitis, David Otunga will act as the captain. His team consists of Mark Henry, The Miz, Dolph Ziggler, Jack Swagger and Christian's replacement due to injury, Drew McIntyre. Both teams have solid rosters but if I have to pick a winner, it'll probably be Team Johnny although this match can go both ways. One of the few matches that's hard to predict a winner. If it's Johnny, expect a lot of power tripping. If it's Teddy, expect a lot of heel trashing :P. Also, expect Aksana and Vickie to get involved in this fight unless they get thrown out right from the get go. We'll see after WrestleMania 28 who's gonna have his power boosted by assuming control of both WWE RAW and WWE SmackDown!
Kupy Wrestling Wallpapers rushes (lol) to you a brand new WrestleMania 28 featuring Team Teddy vs. Team Johnny for the sole control of RAW and Smackdown. Enrich your collection of WWE wallpapers again!
Disclaimer: Images of Long, Laurinaitis, Aksana, Vickie, WWE Superstars & WrestleMania 28 belong to and are copyrighted to/by WWE. There is no copyright infringement intended.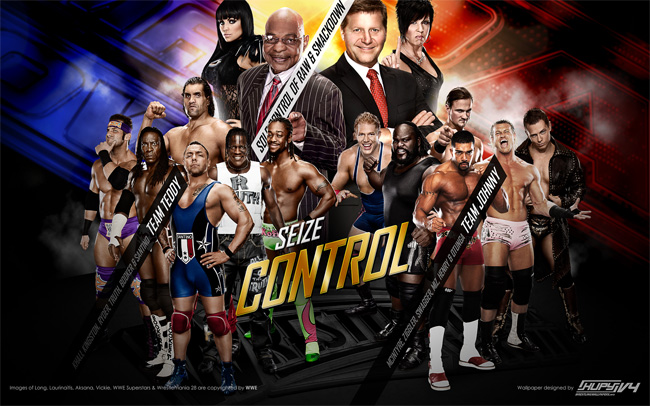 Sole Control of WWE RAW and SmackDown! Team Johnny vs. Team Teddy WrestleMania 28 WWE wallpaper
1920×1200 | 1920×1080 | 1680×1050 | 1600×900 | 1440×900 | 1280×1024 | 1280×800 | 1024×768 / iPad / Tablet | 800×600 | PS Vita wallpaper | PSP wallpaper | Mobile / iPod Touch / iPhone wallpaper | 3D wallpaper | Facebook Timeline Cover
Posted on March 27th, 2012 at 6:19 pm by Mr. Kupy
Posted in
Aksana
,
All Designs
,
Booker T
,
David Otunga
,
Dolph Ziggler
,
Drew McIntyre
,
I) Wrestling Wallpapers
,
Jack Swagger
,
John Laurinaitis
,
Kofi Kingston
,
Mark Henry
,
R-Truth
,
Santino Marella
,
Teddy Long
,
The Great Khali
,
The Miz
,
Vickie Guerrero
,
WrestleMania 28
,
WWE Raw
,
WWE Smackdown
,
Zack Ryder
Tags:
Booker T
,
David Otunga
,
Dolph Ziggler
,
Drew McIntyre
,
I) Wrestling Wallpapers
,
Jack Swagger
,
John Laurinaitis
,
Kofi Kingston
,
Mark Henry
,
R-Truth
,
Santino Marella
,
Team Johnny
,
Team Teddy
,
Teddy Long
,
The Great Khali
,
The Miz
,
WrestleMania
,
WrestleMania 28
,
WWE
,
WWE Raw
,
WWE Smackdown
,
WWE Wallpapers
,
Zack Ryder