Motor City Machine Guns and Beer Money may have done just that – reinventing tag team wrestling. I watched every match they had in their recent best of 5 series and I must say overall, the series was EPIC. Paul Heyman's interview, which was conducted by MMAFighting.com (watch it here), had an interesting part wherein he said if he was the one in charge of the show, he would've built up the show around the 5th and last series match between MCMG and Beer Money. It would've been the main event – and I couldn't agree more. These guys tore the house down and they we're relegated to the middle of the Impact show. It was a shame that even though this feud got a lot of buzz, the recent TNA shows (yes I've been watching weekly for a while now) were focused on EV2. No disrespect to those guys, but Heyman was right. They had their time, they paved the way for today's stars and they helped the industry. Thank you but they should move on. It's time for Beer Money, Motor City Machine Guns, Styles, Joe, Wolfe, Anderson etc. to have the spotlight.
Going back to Motor City Machine Guns and Beer Money, I hope we'll be treated to another best of 5 or 7 series between these 2 great tag teams under a better TNA management and a better creative team. Marketing these guys as the future of the business will only do good things not only for TNA, but for the whole industry as well. Tag team wrestling is awesome – MCMG and Beer Money made it more awesome.
Download this TNA wallpaper today for free!
Disclaimer: All wrestler/logo images and likeness belong to and are copyrighted to/by TNA. There is no copyright infringement intended.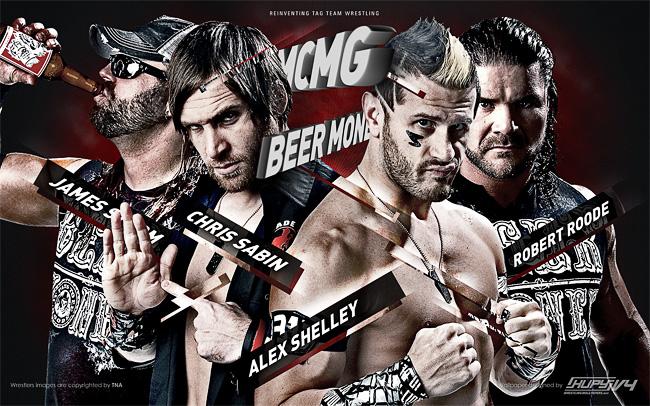 MCMG & Beer Money wallpaper
1920×1200 | 1680×1050 | 1440×900 | 1280×1024 | 1280×800 | 1024×768 / iPad | 800×600 | PSP wallpaper | 3D wallpaper
Posted on August 22nd, 2010 at 10:24 am by Mr. Kupy
Posted in
Alex Shelley
,
All Designs
,
Beer Money
,
Chris Sabin
,
I) Wrestling Wallpapers
,
James Storm
,
Robert Roode
Tags:
Alex Shelley
,
Beer Money
,
Chris Sabin
,
I) Wrestling Wallpapers
,
James Storm
,
Motor City Machine Guns
,
Robert Roode
,
TNA
,
TNA Wallpapers
,
wrestling