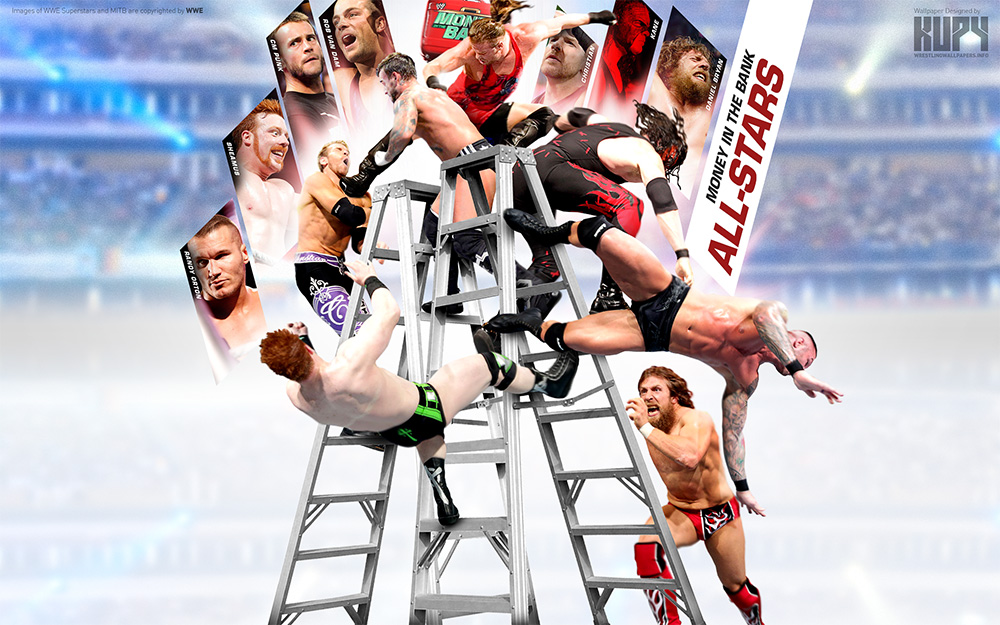 WWE All Stars Money in the Bank 2013 wallpaper
1920×1200 | 1920×1080 | 1680×1050 | 1600×900 | 1440×900 | 1280×1024 | 1280×800 | 1024×768 / iPad / Tablet | PS Vita wallpaper | PSP wallpaper | Mobile / iPod Touch / iPhone wallpaper | iPhone 5 wallpaper | 3D wallpaper | Facebook Timeline Cover
After a 2-week hiatus, Kupy Wrestling Wallpapers is back with this effort-busting wallpaper featuring the Money in the Bank match for a WWE Championship contract, or better known this year as MITB All-Stars. CM Punk, Daniel Bryan, Randy Orton, Sheamus, Kane, Christian and the returning Rob Van Dam are the included participants. I think Chris Jericho should've been included too (sorry Ryback). With the match named MITB All-Stars, it should be exciting and spectacular, especially since RVD and Daniel Bryan are in there. As for the winner, it's pretty obvious that Bryan is gonna win. He's on a hot streak right now and anything other than a Daniel Bryan win would be a letdown. CM Punk is headed for a Brock Lesnar encounter. Orton could be a wild pick though. As for Sheamus, Kane, RVD and Christian, I just don't see them winning the briefcase this year.
So, who do you guys think will get the MITB WWE Championship contract? Whatever the outcome is, it'll be an awesome match for sure!
Just 834 likes so far on Facebook. Let's get to 1k!
Disclaimer: Images of WWE Superstars and Money in the Bank belong to and are copyrighted to/by WWE. There is no copyright infringement intended.

Posted on July 7th, 2013 at 4:53 pm by Mr. Kupy
Posted in
All Designs
,
Christian
,
CM Punk
,
Daniel Bryan
,
I) Wrestling Wallpapers
,
Kane
,
Randy Orton
,
Rob Van Dam
,
Sheamus
,
WWE Money in the Bank
Tags:
Christian
,
CM Punk
,
Daniel Bryan
,
I) Wrestling Wallpapers
,
Kane
,
Randy Orton
,
Rob Van Dam
,
Sheamus
,
wrestling
,
WWE
,
WWE Money in the Bank
,
WWE Wallpapers