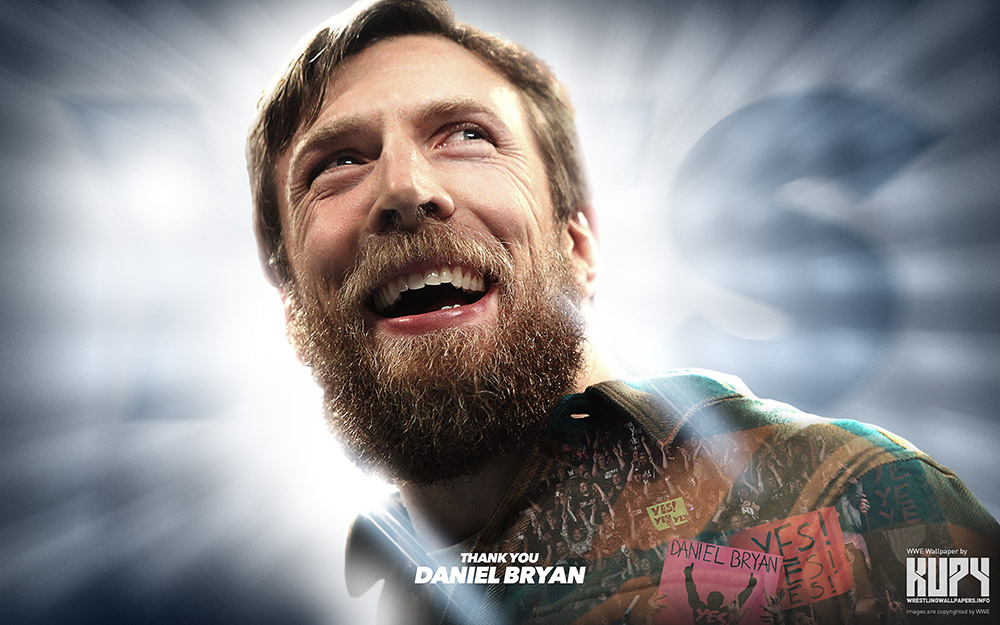 Thank You Daniel Bryan wallpaper
2560×1600 | 2560×1440 | 1920×1200 | 1920×1080 | 1680×1050 | 1600×900 | 1440×900 | 1366×768 | 1280×1024 | 1280×800 | 1024×768 / iPad / Tablet | PS Vita wallpaper | iPhone 6S Plus/ 6S / 5S wallpaper | Facebook timeline Cover
The leader of the Yes movement, after months of speculation about his return, came back this past Monday to formally announce his retirement from wrestling. Daniel Bryan, despite not being your typical WWE wrestler template, has a cult following other wrestlers can only dream of having. The support from Bryan's fans, from kids to adults, is 100% strong and organic. To see the guy finally hang up his boots due to injuries might be too tragic to accept but if you look at the other side, at least Daniel Bryan can avoid further possible permanent damage(s) to his body. Those multiple concussions are nasty, you might want to go out while you still can do it on your own terms. I'm very sad to see him go..but I'd rather have him injury-free for the rest of his life. He'll be in WWE programming anyway in some capacity. I'm good with that.
Again, THANK YOU SO MUCH Daniel Bryan for giving us your all. You've entertained a lot of people in the modern era. You're Hall of Fame-bound in a year or two that's for sure.
Follow Kupy Wrestling Wallpapers on Instagram | Like Kupy Wrestling Wallpapers on Facebook
Disclaimer: Images belong to and are copyrighted to/by WWE. There is no copyright infringement intended.