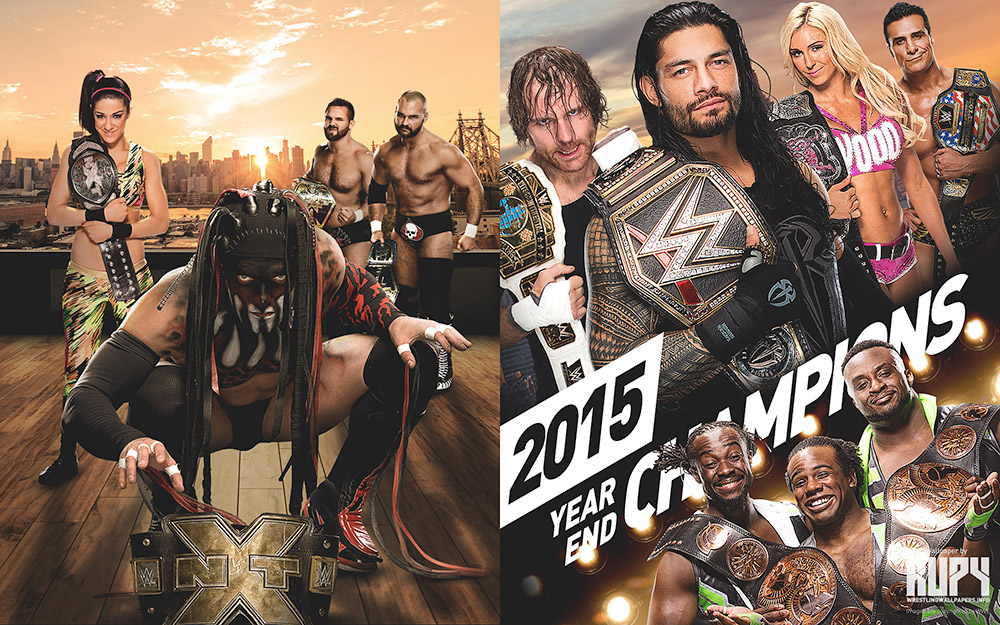 NXT and WWE Year-End Champions 2015 wallpaper
2560×1600 | 2560×1440 | 1920×1200 | 1920×1080 | 1680×1050 | 1600×900 | 1440×900 | 1366×768 | 1280×1024 | 1280×800 | 1024×768 / iPad / Tablet | PS Vita wallpaper | iPhone 6S / 5S wallpaper (NXT) | iPhone 6S / 5S wallpaper (WWE)
Back after skipping 2014, Kupy Wrestling Wallpapers brings back the 2015 Year-End Champions wallpaper! And this time around, the NXT champions are included! Worked on this the whole day, even missing the New Year midnight celebration so it's a bit late but again, better than nothing :))
Finn Balor as NXT Champion, Bayley as NXT Women's Champion and Dash and Dawson as NXT Tag Team Champions represent the NXT brand. From the WWE/main roster side, we have Roman Reigns as WWE World Heavyweight Champion, Dean Ambrose as Intercontinental Champion, Alberto Del Rio as US Champion, Charlotte as Divas Champion and finally, New Day as World Tag Team Champions.
Hope you'll love the this NXT/WWE wallpaper finale from Kupy Wrestling Wallpapers! Happy New Year everyone! Let's kick some ass on 2016!
Follow Kupy Wrestling Wallpapers on Instagram | Like Kupy Wrestling Wallpapers on Facebook
Disclaimer: Images belong to and are copyrighted to/by WWE. There is no copyright infringement intended.
Posted on December 31st, 2015 at 5:21 pm by Mr. Kupy
Posted in
Alberto Del Rio
,
All Designs
,
Bayley
,
Big E
,
Charlotte
,
Dash and Dawson
,
Dash Wilder
,
Dean Ambrose
,
Finn Balor
,
I) Wrestling Wallpapers
,
Kofi Kingston
,
New Day
,
Roman Reigns
,
Scott Dawson
,
Xavier Woods
Tags:
Alberto Del Rio
,
Bayley
,
Big E
,
Charlotte
,
Dash and Dawson
,
Dash Wilder
,
Dean Ambrose
,
Finn Balor
,
I) Wrestling Wallpapers
,
Kofi Kingston
,
New Day
,
Roman Reigns
,
Scott Dawson
,
wrestling
,
WWE
,
WWE Wallpapers
,
Xavier Woods