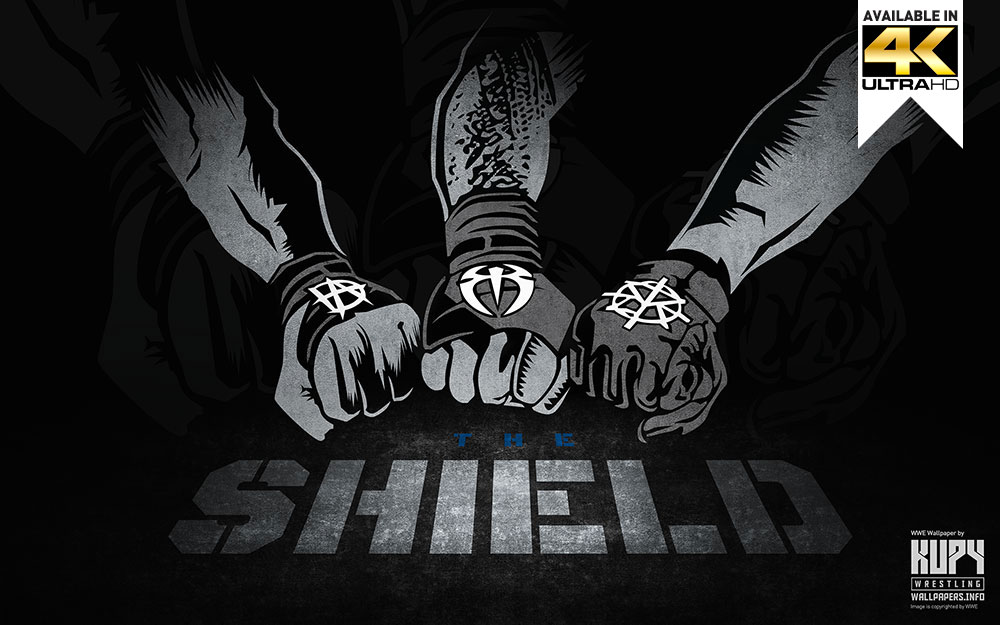 The Shield 2017 wallpaper
4K | 2560×1600 | 2560×1440 | 1920×1200 | 1920×1080 | 1680×1050 | 1600×900 | 1440×900 | 1366×768 | 1280×800 | 1024×768 / iPad / Tablet | iOs / Android mobile wallpaper | Facebook Timeline Cover
The Hounds of Justice are back! Really, at this point, everyone is just happy about it, whether you hate Roman Reigns or not. The only intriguing thing about this reunion is will it last? They basically don't have a group to feud with aside from the Miztourage and The Bar (and Braun Strowman of course) unless The Authors of Pain or Sanity debuts during or after Survivor Series. It'll be interesting to see if Roman Reigns turns heel on his good brothers and finally start a long overdue heel tear. Then again, as if WWE will pull the trigger on something like that.
Sierra. Hotel. India. Echo. Lima. Delta. Shield. Inspired by their latest t-shirt design, Kupy Wrestling Wallpapers brings to you this brand spanking new wallpaper featuring their trademark fist bump. Get it now!
Follow Kupy Wrestling Wallpapers on Instagram | Like Kupy Wrestling Wallpapers on Facebook
Disclaimer: Image(s) belong to and are copyrighted to/by WWE. There is no copyright infringement intended.
Posted on October 14th, 2017 at 5:23 pm by Mr. Kupy
Posted in
All Designs
,
Dean Ambrose
,
I) Wrestling Wallpapers
,
Roman Reigns
,
Seth Rollins
,
The Shield
Tags:
4k wallpaper
,
Dean Ambrose
,
HD wallpaper
,
I) Wrestling Wallpapers
,
mobile wallpaper
,
Roman Reigns
,
Seth Rollins
,
The Shield
,
wrestling
,
WWE
,
WWE Wallpapers