The Hart Dynasty, since turning face, has developed some form of identity under the guidance of Bret Hart himself. They badly needed that when they were still on ECW and SmackDown!. Even though each member of the group is part of the rich family wrestling tradition of the Hart's, these 3 talented wrestlers hardly mattered to the WWE Universe. Their heel personas didn't do them any favors too. However, everything changed when they aligned with Bret Hart and aided him in laying Vince McMahon to waste last March at WrestleMania 26. Little by little, they gained that much needed momentum with wins against  ShowMiz, Jericho and Miz, etc. And when they were crowned as Unified Tag Team Champions, things got more challenging for them. They're now the hunted, and the Usos are doing just that to them, making a statement out of their expense. The feud with the Usos will certainly help them develop more in-ring personality, storyline relevance and star power, not to mention reviving the tag team division at the same time.
Kupy Wrestling Wallpapers presents this wrestling wallpaper featuring the trio of David Hart Smith (son of the British Bulldog), Natalya (daughter of Jim "The Anvil" Neidhart) and Tyson Kidd (the last graduate from Stu Hart's Dungeon), the current Unified Tag Team Champions, The Hart Dynasty!
Disclaimer: All wrestler/logo images and likeness belong to and are copyrighted to/by WWE. There is no copyright infringement intended.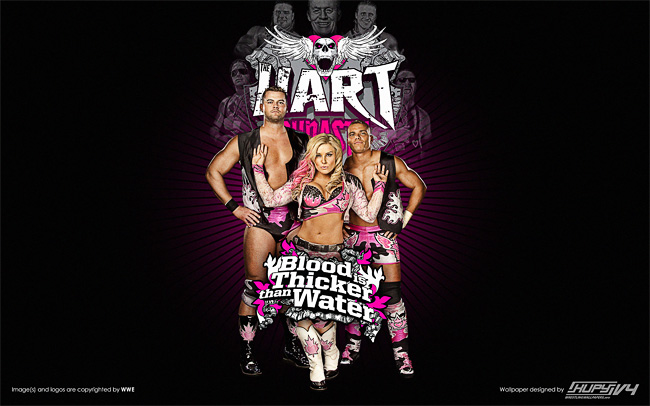 The Hart Dynasty "Blood is Thicker than Water" wallpaper
1920×1200 | 1680×1050 | 1440×900 | 1280×1024 | 1280×800 | 1024×768 | 800×600 | PSP wallpaper | iPod Touch / iPhone wallpaper
Posted on June 8th, 2010 at 4:23 pm by Mr. Kupy
Posted in
All Designs
,
DH Smith
,
Hart Dynasty
,
I) Wrestling Wallpapers
,
Natalya
,
Tyson Kidd
Tags:
Bret Hart
,
British Bulldog
,
David Hart Smith
,
I) Wrestling Wallpapers
,
Jim Neidhart
,
Natalya
,
Owen Hart
,
Stu Hart
,
The Hart Dynasty
,
Tyson Kidd
,
wrestling
,
WWE
,
WWE Wallpapers