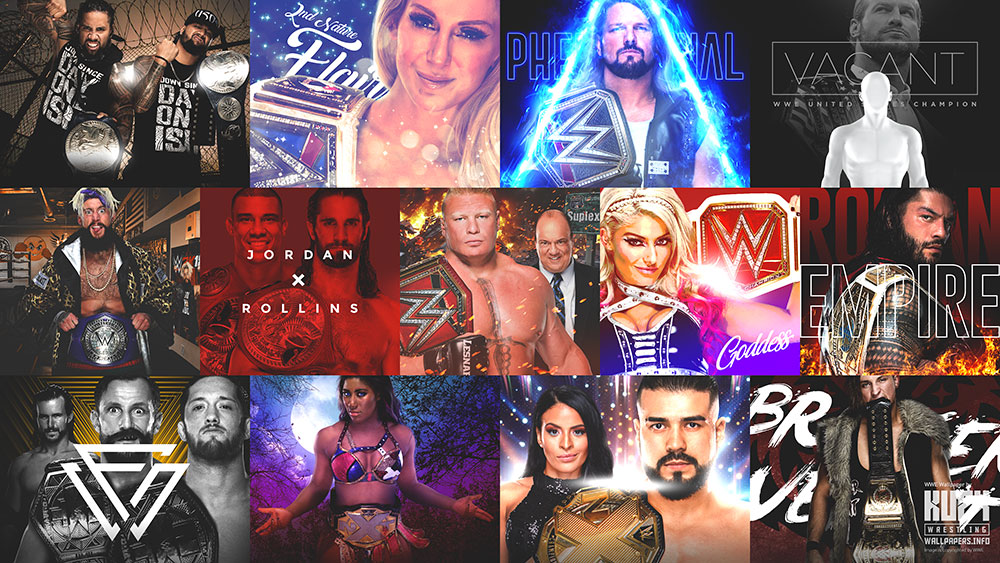 2018 Day 1 NXT, UK & WWE Champions wallpaper
4K / 16:9 / HD: 4K | 2560×1440 | 1920×1080 | 1600×900 | 1366×768
16:10: 1920×1200 | 1680×1050 | 1440×900 | 1280×800
iPad: Tablet / iPad wallpaper
Mobile: Android / iPhone mobile wallpaper | Android QHD mobile wallpaper / S8+ / Note 8
Facebook: Facebook Timeline Cover
I have to be honest, this wallpaper was supposed to be the 2017 Year-End Champions..and I wasn't able to complete it on time. So, I'm branding it as 2018 Day 1 WWE and NXT Champions lol. The 1st RAW and SmackDown Live shows this year didn't have any title changes so each of these WWE/NXT Superstars is/are still Champion(s). This wallpaper was inspired by Spotify-themed album covers–another reason why this WWE wallpaper was super delayed. Again, better late than never, right?
Follow Kupy Wrestling Wallpapers on Instagram | Like Kupy Wrestling Wallpapers on Facebook
Disclaimer: Image(s) belong to and are copyrighted to/by WWE. There is no copyright infringement intended.
Posted on January 3rd, 2018 at 5:56 pm by Mr. Kupy
Posted in
Adam Cole
,
AJ Styles
,
Alexa Bliss
,
All Designs
,
Andrade "Cien" Almas
,
Bobby Fish
,
Brock Lesnar
,
Charlotte
,
Dolph Ziggler
,
Ember Moon
,
Enzo Amore
,
I) Wrestling Wallpapers
,
Jason Jordan
,
Jey Uso
,
Jimmy Uso
,
Kyle O'Reilly
,
Paul Heyman
,
Pete Dunne
,
Roman Reigns
,
Seth Rollins
,
The Undisputed Era
,
The Usos
,
Vacant
,
Zelina Vega
Tags:
4k wallpaper
,
Adam Cole
,
AJ Styles
,
Alexa Bliss
,
Andrade Cien Almas
,
Bobby Fish
,
Brock Lesnar
,
Charlotte
,
Dolph Ziggler
,
Ember Moon
,
Enzo Amore
,
I) Wrestling Wallpapers
,
Jason Jordan
,
Jey Uso
,
Jimmy Uso
,
Kyle O'Reilly
,
mobile wallpaper
,
Paul Heyman
,
Roman Reigns
,
Seth Rollins
,
The Undisputed Era
,
The Usos
,
Vacant
,
wrestling
,
WWE
,
WWE Wallpapers
,
Zelina Vega