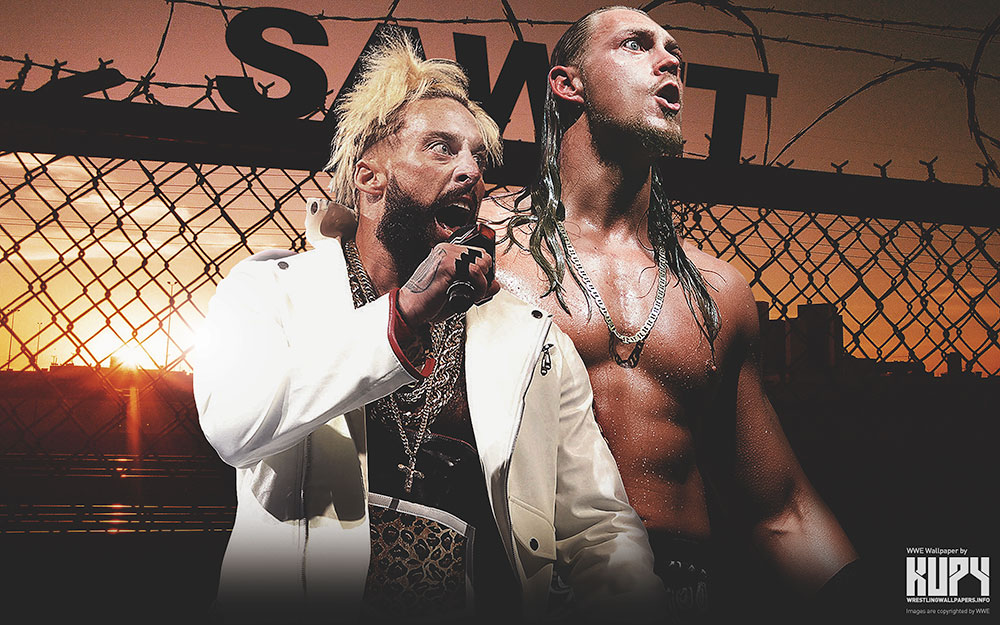 SAWFT! Enzo Amore & Colin Cassady wallpaper
1920×1200 | 1920×1080 | 1680×1050 | 1600×900 | 1440×900 | 1366×768 | 1280×1024 | 1280×800 | 1024×768 / iPad / Tablet | iPhone 6S Plus / 6S / 5S / Android mobile wallpaper | PS Vita wallpaper | Facebook Timeline Cover
How you doin'?
Enzo & Cass are probably at par with the New Day in terms of entertainment delivery. This duo is brash and nasty. You have Enzo as the trashtalker and Cass as the fearsome big man. They totally complement each other and they're about to wreak havoc in the tag team division. It's a breath of fresh air for RAW and SmackDown especially now that the tag team division is heating up again with the arrival of this awesome team, together with the Vaudevillains and of course, the team of Karl Anderson and Luke Gallows (or Bullet/Balor Club).
Even though these two are one hell of an entertaining team, they still have ways to go in terms of delivering 5-star matches. They're not the most technical guys out there though what they lack in wrestling skills, they deliver 200% in terms of charisma and fan participation. It would've also been better if Carmella was brought up with them. She's a total hot chick! Maybe she'll be there when it's time to freshen things up with this team. Btw, can you see the similarity between Enzo Amore and John Cena's Doctor of Thuganomics persona, in terms of cutting promos? How about Cass & Edge? Or Enzo & Robert Downey Jr.? Haha.
Kupy Wrestling Wallpapers finally shakes off its SAWFTness with the delivery of this Enzo & Cass wallpaper today. Get it now while it's hot!
Follow Kupy Wrestling Wallpapers on Instagram | Like Kupy Wrestling Wallpapers on Facebook
Disclaimer: Images belong to and are copyrighted to/by WWE. There is no copyright infringement intended.
Posted on April 18th, 2016 at 5:36 pm by Mr. Kupy
Posted in
All Designs
,
Colin Cassady
,
Enzo & Cass
,
Enzo Amore
,
I) Wrestling Wallpapers
Tags:
Colin Cassady
,
Enzo & Cass
,
Enzo Amore
,
HD wallpaper
,
I) Wrestling Wallpapers
,
wrestling
,
WWE
,
WWE Wallpapers