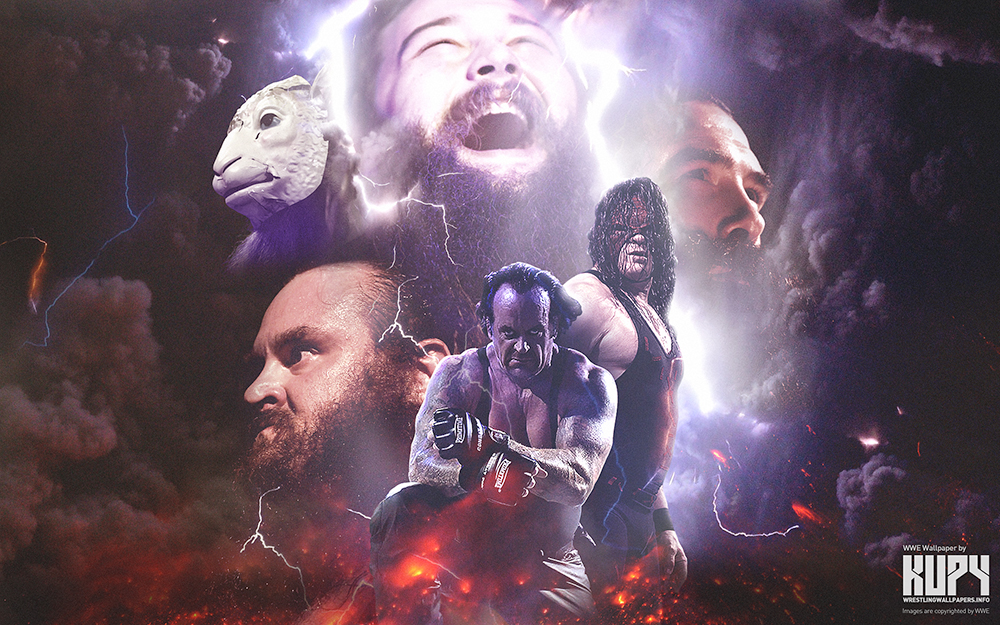 Survivor Series 2015: Undertaker and Kane vs. Wyatt Family wallpaper
2560×1600 | 2560×1440 | 1920×1200 | 1920×1080 | 1680×1050 | 1600×900 | 1440×900 | 1366×768 | 1280×1024 | 1280×800 | 1024×768 / iPad / Tablet | PS Vita wallpaper | iPhone 6, iPhone 6 Plus, iPhone 6S, iPhone 6S Plus wallpaper | iPhone 5S wallpaper | Facebook Timeline Cover
The Brothers of Destruction made sure that the Wyatt Family, especially Bray Wyatt, got a taste of their vengeful wrath on this week's RAW. The Eater of Worlds mockingly dedicated a eulogy of sorts to Undertaker and Kane..well, it backfired big time. The brothers totally wiped out the Wyatt Family. I expect the 4 monsters to retaliate either next week on RAW or on Survivor Series, with Bray and co. picking up a huge win at the PPV and finally grabbing that torch from Kane and The Undertaker as the new faces of fear and destruction.
Many Facebook fans of Kupy Wrestling Wallpapers have requested an Undertaker wallpaper these past few weeks. Yep, I heard you guys. Even added Kane and the Wyatt Family in there just in time for their WWE Survivor Series mega-clash. Speaking of this feud, would it be a 2-on-4 handicap match or will the Brothers of Destruction team up with 2 other WWE Superstars (or NXT Superstars)? Let's find out on November 22.
Follow Kupy Wrestling Wallpapers on Instagram | Like Kupy Wrestling Wallpapers on Facebook
Disclaimer: Images belong to and are copyrighted to/by WWE. There is no copyright infringement intended.
Posted on November 12th, 2015 at 6:25 pm by Mr. Kupy
Posted in
All Designs
,
Braun Strowman
,
Bray Wyatt
,
Brothers of Destruction
,
Erick Rowan
,
I) Wrestling Wallpapers
,
Kane
,
Luke Harper
,
The Undertaker
,
WWE Survivor Series
,
Wyatt Family
Tags:
Braun Strowman
,
Bray Wyatt
,
Brothers of Destruction
,
Erick Rowan
,
I) Wrestling Wallpapers
,
Kane
,
Luke Harper
,
The Undertaker
,
wrestling
,
WWE
,
WWE Survivor Series
,
WWE Wallpapers
,
Wyatt Family