After WWE TLC PPV, we saw a dawning of a new era in WWE. It has no definite name like the Attitude era but that will come later. The new foundation for the WWE has been laid out by crowning these excellent wrestlers (or sports entertainers as WWE would like to call them). CM Punk retained his WWE Championship, Daniel Bryan won the World Heavyweight Championship via his MITB cash-in, Cody Rhodes defended his Intercontinental Championship successfully, Zack Ryder FINALLY won the US Title, Beth Phoenix retained her Divas Championship Belt and the team of Evan Bourne and Kofi Kingston, Air Boom, defended successfully their Tag Team Titles. And now, these guys are enjoying their success, and they deserved every bit of it. These guys worked their butts off to be in the position they are right now. Yes, they may not reek ratings right now as the RAW viewership stats showed last week..give them a couple of months or so and I believe they will be able to prove that WWE doesn't need Cena hogging the main event scene to get ratings.
Kupy Wrestling Wallpapers pays tribute to these great wrestlers by releasing this wrestling wallpaper featuring them as WWE's Next-Generation Champions. Congratulations CM Punk and co., you guys earned your spots. Looking forward to better WWE in 2012! Hey, and TNA too! 🙂
2011 saw interest in wrestling, in general, coming back again. With the rise of CM Punk, Bobby Roode, Daniel Bryan, etc., things are looking A LOT brighter heading towards 2012. Thanks a bunch for the great memories this year 2011!
Disclaimer: Images of WWE Superstars and WWE Championship Belts belong to and are copyrighted to/by WWE. There is no copyright infringement intended.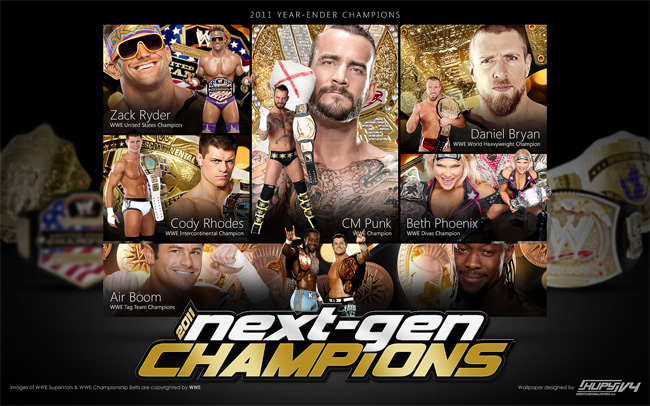 2011 Year-Ender Champions WWE wallpaper
1920×1200 | 1920×1080 | 1680×1050 | 1600×900 | 1440×900 | 1280×1024 | 1280×800 | 1024×768 / iPad / Tablet | 800×600 | PS Vita wallpaper | PSP wallpaper | Mobile / iPod Touch / iPhone wallpaper | 3D wallpaper
Posted on December 28th, 2011 at 3:00 pm by Mr. Kupy
Posted in
All Designs
,
Beth Phoenix
,
CM Punk
,
Cody Rhodes
,
Daniel Bryan
,
Evan Bourne
,
I) Wrestling Wallpapers
,
Kofi Kingston
,
WWE Divas
,
Zack Ryder
Tags:
Beth Phoenix
,
CM Punk
,
Cody Rhodes
,
Daniel Bryan
,
Evan Bourne
,
I) Wrestling Wallpapers
,
Kofi Kingston
,
wrestling
,
WWE
,
WWE Wallpapers
,
Zack Ryder