As we look back on the memorable WWE moments of 2012, let's be thankful of the wrestling goodness we got this year. From Daniel Bryan's rise to stardom to CM Punk's 400+ days of WWE Title reign, 2012 was totally spectacular, regardless of some disappointments (John Cena as WWE Superstar of the Year, RAW going 3 hours, etc). We'll always get those. Good thing we're headed to a very promising 2013, with Rock coming back (again), Ziggler breaking the ceiling anytime soon, young prospects (The Shield, Big E Langston) being groomed well and the likes of CM Punk, Daniel Bryan and Ryback getting ready to take up the reins off Cena, soon.
We close this epic year of 2012 with the current title holders in the WWE. Most of these champions are the future of WWE. Punk and Bryan were both revelations that started last year. Kofi is one heel turn away from getting out of the midcard. Wade Barrett made a last-day attempt to win the Intercontinental Championship from Kofi Kingston..and he did just that. Be ready for the Barrett Barrage this 2013. Antonio Cesaro, what can I say? Probably one of the fastest rising WWE Superstars today. Divas Champion Eve is currently dominating the very weak Divas division (until new blood comes in for help). Team Hell No will own the tag team division until they finally go their separate ways, with Bryan hopefully challenging for the WWE/World Heavyweight Championship. Lastly, as an added bonus, Dolph Ziggler. The hottest commodity on the planet right now. I'm predicting he'll be the Superstar of the Year in 2013, though Ryback/Punk may have something to say about that.
Inspired by WWE'13's UI layout, Kupy Wrestling Wallpapers brings to you the last wrestling wallpaper for 2012 featuring WWE's Year-End Champions (w/ extra MITB holder Dolph Ziggler)! I'm planning to make this an annual thing. Here's the link for the 2011 version.
Happy holidays everyone! Cheers to a bigger and stronger Kupy Wrestling Wallpapers this coming 2013! 🙂
Disclaimer: Images of WWE Superstars & Championship Belts belong to and are copyrighted to/by WWE. There is no copyright infringement intended.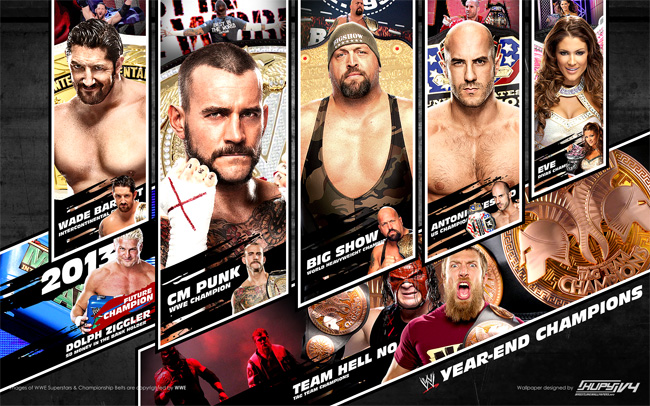 2012 Year-Ender: Champions of WWE wallpaper
1920×1200 | 1920×1080 | 1680×1050 | 1600×900 | 1440×900 | 1280×1024 | 1280×800 | 1024×768 / iPad / Tablet | PS Vita wallpaper | PSP wallpaper | Mobile / iPod Touch / iPhone wallpaper | iPhone 5 wallpaper | 3D wallpaper | Facebook Timeline Cover
Posted on December 28th, 2012 at 4:15 pm by Mr. Kupy
Posted in
All Designs
,
Bad News Barrett
,
Big Show
,
Cesaro
,
CM Punk
,
Daniel Bryan
,
Dolph Ziggler
,
Eve Torres
,
I) Wrestling Wallpapers
,
Kane
,
Team Hell No
,
WWE Divas
Tags:
Antonio Cesaro
,
Big Show
,
CM Punk
,
Daniel Bryan
,
Eve Torres
,
I) Wrestling Wallpapers
,
Kane
,
Team Hell No
,
Wade Barrett
,
wrestling
,
WWE
,
WWE Wallpapers