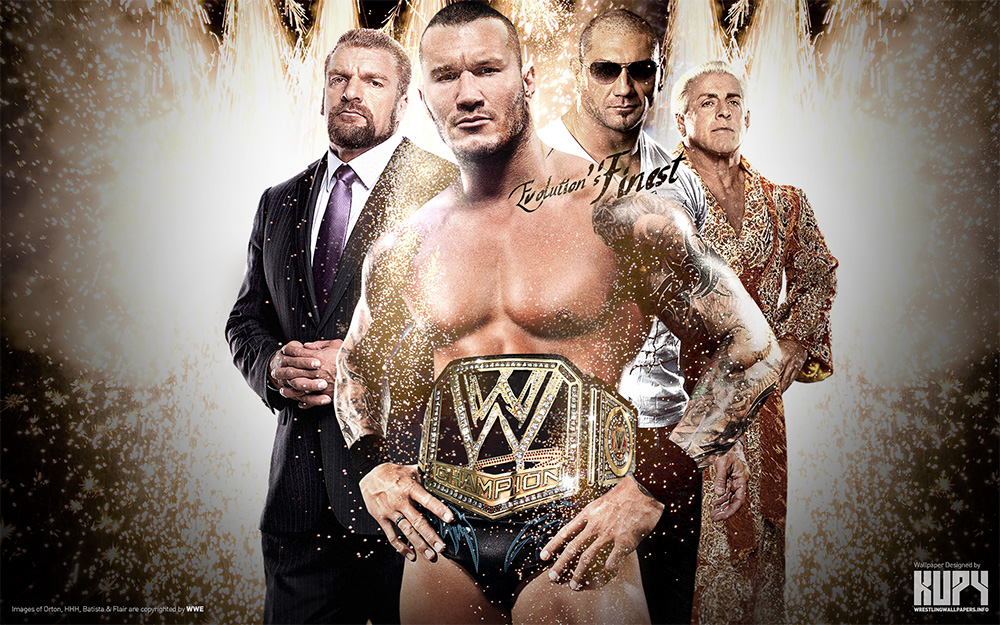 "Evolution's Finest" WWE Champion Randy Orton wallpaper
1920×1200 | 1920×1080 | 1680×1050 | 1600×900 | 1440×900 | 1280×1024 | 1280×800 | 1024×768 / iPad / Tablet | PS Vita wallpaper | PSP wallpaper | Mobile / iPod Touch / iPhone wallpaper | iPhone 5 wallpaper | 3D wallpaper | Facebook Timeline Cover
In WWE SummerSlam 2004, Randy Orton became the youngest World Heavyweight Champion in WWE history by defeating the late Chris Benoit. Almost a decade later, Randy Orton is now a 10-time champion, with his latest reign starting from yesterday's WWE SummerSlam. With John Cena taking time off to heal his injured elbow, as much as I might get heat for this, I think Randy winning last night was a better way to pave for him to become the top heel once again for WWE AND at the same time, handing the underdog and top face spot to Daniel Bryan. Remember how Austin was chasing the WWE Championship most of the time than him being a long-reigning champion? It's about the chase, and I believe DBry will benefit more from that in the long run. As long as Daniel Bryan doesn't suffer setbacks or any form of long-term injury, The Beard is on his way to becoming the top face of the WWE. This storyline will lead to amazing twists and turns, with Orton and Bryan providing great wrestling at the same time. We've been asking for a heel turn for Mr. RKO for years now and here he is now. It could also mean a revival of Corporation, with HHH and Orton leading the pack OR it could be a brand-new Evolution, with new members on their side. In the end though, Orton's reign will be short-lived. Daniel Bryan is on his way to winning the WWE Championship for the 2nd time soon. Mark it.
Since a lot of fans have been talking about an Evolution reunion with Triple H and Randy Orton conspiring, today's RKO wallpaper features Randy Orton, arguably, as the finest product Evolution has offered since the group's formation. You can certainly make a case for HHH, Ric Flair or Batista but Orton's on top right now. Anyway, download this Evolution-themed Randy Orton as WWE Champion wallpaper now!
Finally got to 1k! Give us more likes on Facebook!
Disclaimer: Images of Randy Orton, Triple H, Batista and Ric Flair belong to and are copyrighted to/by WWE. There is no copyright infringement intended.
Posted on August 20th, 2013 at 3:44 am by Mr. Kupy
Posted in
All Designs
,
Batista
,
Evolution
,
I) Wrestling Wallpapers
,
Randy Orton
,
Ric Flair
,
Triple H
Tags:
Batista
,
Evolution
,
I) Wrestling Wallpapers
,
Randy Orton
,
Ric Flair
,
Triple H
,
wrestling
,
WWE
,
WWE Wallpapers