The Immortal storyline has been awful so far. Yeah it's another NWO-style takeover but what I don't understand is why they had to drag Fortune into this crap. I can't imagine AJ Styles playing second fiddle to Jeff Hardy when AJ SHOULD be the top guy in this Immortal/Fortune group. Heck, he should be the TNA World Heavyweight Champion right now and not Mr. Anderson. Even though I'm a huge fan of Mr. Anderson, he's not yet champ material. His title win lacked proper build up and it just makes him look like a transitional champion. For now, he's the top guy until Jeff Hardy resolves his legal case next month.
Going back to AJ Styles and Fortune, I believe these guys should separate themselves from Immortal because that group is becoming crowded already. They shouldn't be acting like dogs for Hogan and company or looking like a bunch of Rob Terry's. 3/4 of Fortune are champions right now! AJ Styles, Kazarian and Beer Money deserve much better than this. Ric Flair, he'll live no matter what the storyline is.
TNA's Fortune has arrived in Kupy Wrestling Wallpapers! Go and download this TNA wallpaper right away!
Disclaimer: Logo and images of Fortune belong to and are copyrighted to/by TNA. There is no copyright infringement intended.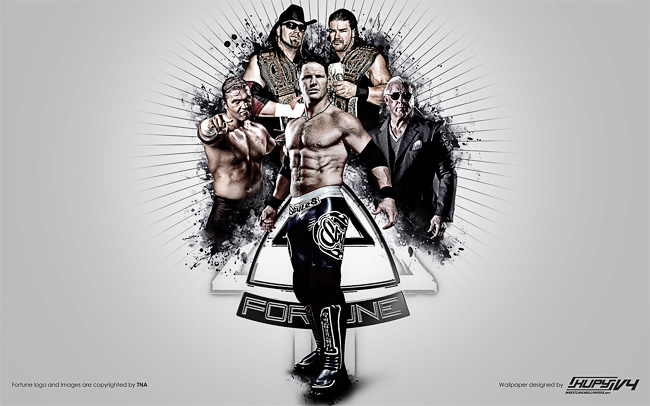 Fortune TNA wallpaper
1920×1200 | 1680×1050 | 1600×900 | 1280×1024 | 1024×768 / iPad | 800×600 | PSP wallpaper | iPod Touch / iPhone wallpaper | 3D wallpaper
Posted on January 23rd, 2011 at 6:39 pm by Mr. Kupy
Posted in
AJ Styles
,
All Designs
,
Beer Money
,
Fortune
,
I) Wrestling Wallpapers
,
James Storm
,
Kazarian
,
Ric Flair
,
Robert Roode
Tags:
AJ Styles
,
Beer Money
,
Fortune
,
James Storm
,
Kazarian
,
Ric Flair
,
Robert Roode
,
TNA
,
TNA Wallpapers