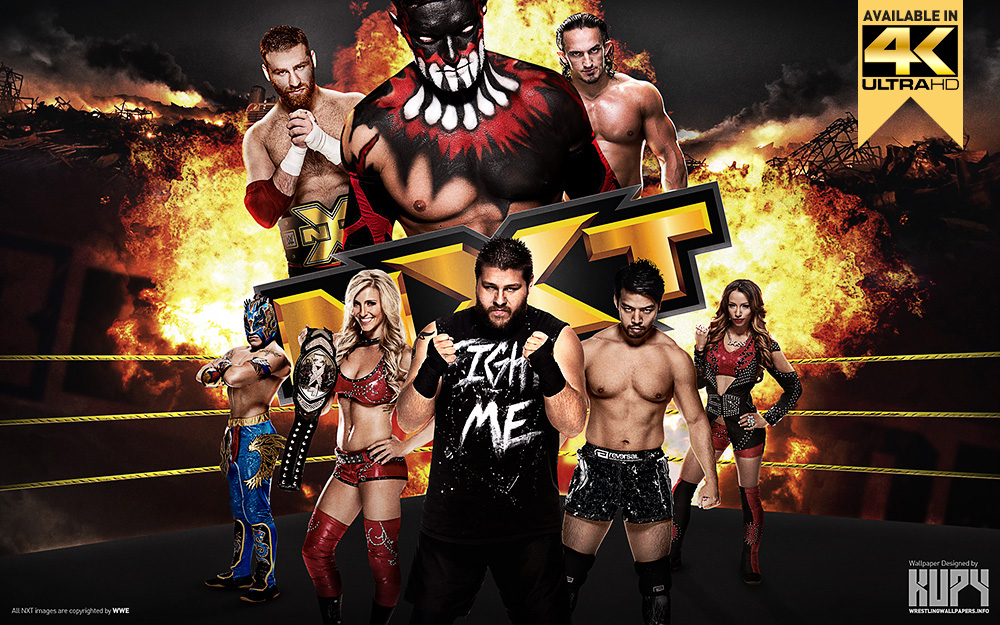 REvolution 2015 NXT wallpaper
4K wallpaper | 1920×1200 | 1920×1080 | 1680×1050 | 1600×900 | 1440×900 | 1280×1024 | 1280×800 | 1024×768 / iPad / Tablet | PS Vita wallpaper | iPhone 6 Plus wallpaper | iPhone 6 wallpaper | iPhone 5s wallpaper | iPhone 5 wallpaper | Facebook Timeline Cover
By now I'm pretty sure most of the WWE Universe have seen the latest and probably the best NXT TakeOver to ever happen: NXT REvolution. It was a total showcase of WWE's future headliners both in the male and female divisions. Almost every match that night was a show-stealer. The debut (and quick heel turn in the end) of Kevin Owens, the epic entrance of Finn Balor, the superb NXT Women's championship match between Charlotte and Sasha Banks, the likes of Kalisto and Ideo Hitami flying in the air and of course, the NXT Championship match between Adrian Neville and Sami Zayn that brought the house down with excellent match booking and storytelling. I've never watched NXT multiple times until this show. It was that AWESOME!
Starting the year right is this newest and first 2015 WWE wallpaper of the NXT Superstars. Instead of making a year-end WWE champions, I decided to shift the focus entirely to WWE's development of future main eventers. These young guns are primed to bring NXT to newer heights. Watch out 2015, their evolution is now.
*Note: PSP wallpapers won't be available anymore on the newer wallpapers starting this year
Like Kupy Wrestling Wallpapers on Facebook!
Disclaimer: All NXT images belong to and are copyrighted to/by WWE. There is no copyright infringement intended.
Posted on January 1st, 2015 at 1:13 pm by Mr. Kupy
Posted in
All Designs
,
Charlotte
,
Finn Balor
,
Hideo Itami
,
I) Wrestling Wallpapers
,
Kalisto
,
Kevin Owens
,
Neville
,
NXT
,
Sami Zayn
,
Sasha Banks
Tags:
Adrian Neville
,
Charlotte
,
Finn Balor
,
Hideo Itami
,
I) Wrestling Wallpapers
,
Kalisto
,
Kevin Owens
,
NXT
,
NXT Divas
,
Sami Zayn
,
wrestling
,
WWE
,
WWE Divas
,
WWE Wallpapers