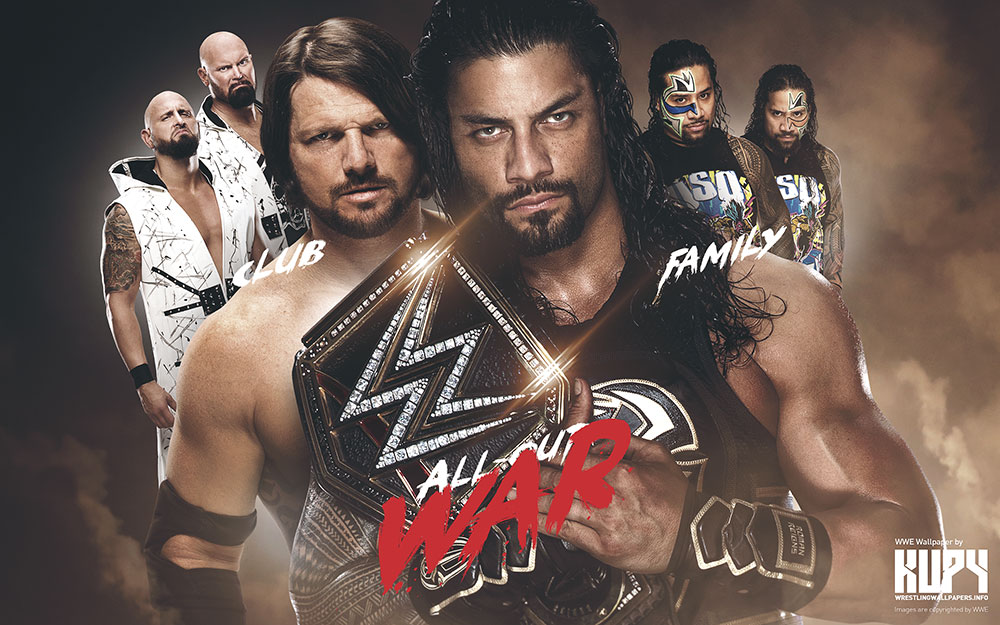 All-Out War: Club (AJ Styles, Karl Anderson & Luke Gallows) vs. Family (Roman Reigns, Jey Uso & Jimmy Uso) wallpaper
2560×1600 | 2560×1440 | 1920×1200 | 1920×1080 | 1680×1050 | 1600×900 | 1440×900 | 1366×768 | 1280×1024 | 1280×800 | 1024×768 / iPad / Tablet | iPhone 6S Plus / 6S / 5S / Android mobile wallpaper | PS Vita wallpaper | Facebook Timeline Cover
'The Club' of Luke Gallows, Karl Anderson and The Phenomenal AJ Styles are currently engaged in a hot feud against the Samoan Dynasty/Family of The Usos and the WWE World Heavyweight Champion Roman Reigns. It was right for WWE to continue this angle of AJ chasing Roman while having Karl & Luke and The Usos join in. WWE has barely scratched the potential in this one and if they play it right, whether it involves Gallows and Anderson turning on Styles or Reigns going full-fledged villain or maybe even Finn Balor debuting and takes over The (Balor) Club, they'll have a money storyline they can use up to SummerSlam though that may be a bit of a stretch. But you get my point. The chemistry between Roman Reigns and AJ Styles is growing each time they face each other in a verbal altercation or a match. Their styles (pun intended) benefit one another so much that their PayBack match was surprisingly good.
I understand that Roman's not gonna lose the belt anytime soon. At some point though, I'm hoping AJ gets a title reign (AGAIN) even if it's a short one, with a monster heel Reigns winning it back for the 4th time.
My current favorite feud at the moment, get the WWE wallpaper now!
Follow Kupy Wrestling Wallpapers on Instagram | Like Kupy Wrestling Wallpapers on Facebook
Disclaimer: Images belong to and are copyrighted to/by WWE. There is no copyright infringement intended.
Posted on May 9th, 2016 at 8:00 pm by Mr. Kupy
Posted in
AJ Styles
,
All Designs
,
I) Wrestling Wallpapers
,
Jey Uso
,
Jimmy Uso
,
Karl Anderson
,
Luke Gallows
,
Roman Reigns
,
The Usos
Tags:
AJ Styles
,
HD wallpaper
,
I) Wrestling Wallpapers
,
mobile wallpaper
,
Roman Reigns
,
The Bloodline
,
The Usos
,
wrestling
,
WWE
,
WWE Wallpapers