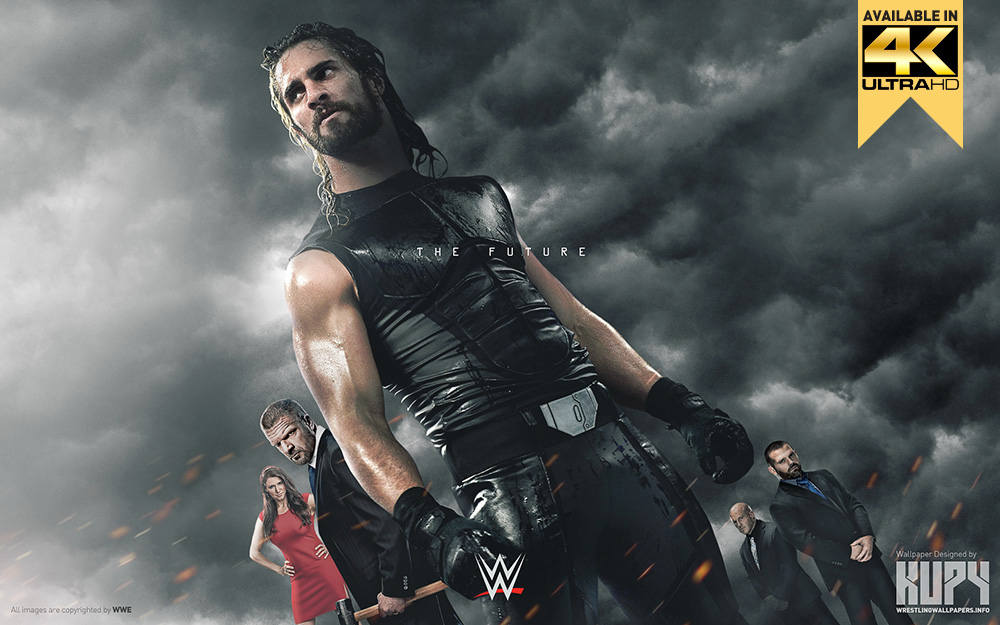 Seth Rollins 2015 wallpaper
4K wallpaper | 1920×1200 | 1920×1080 | 1680×1050 | 1600×900 | 1440×900 | 1280×1024 | 1280×800 | 1024×768 / iPad / Tablet | PS Vita wallpaper | iPhone 6 Plus wallpaper | iPhone 6 wallpaper | iPhone 5s wallpaper | iPhone 5 wallpaper | Facebook Timeline Cover
Even though Mr. Money in the Bank hasn't cashed in yet, Seth Rollins looks golden right now! His work against WWE's top dogs Brock Lesnar and John Cena has been fantastic. And his promos? As Cole would say, OH MY. Against arguably WWE's best talker right now, Paul Heyman, the Future of the WWE totally killed it on the mic. I'm very impressed about this guy's progress. The Authority's backing plays a factor on his rise of course. However, make no mistake about it, Seth Rollins did his best (and more) on his own in each and every opportunity WWE has given him. Rollins' definitely the top heel after Lesnar, that is if Brock decides to leave after WrestleMania 31 or if he eventually turns face.
The Future of the WWE is making some serious noise heading into Royal Rumble. Can we expect a swerve and a title change in favor of Seth? What do you guys think?
Download the WWE wallpaper today!
Like Kupy Wrestling Wallpapers on Facebook!
Disclaimer: All images belong to and are copyrighted to/by WWE. There is no copyright infringement intended.
Posted on January 18th, 2015 at 9:19 pm by Mr. Kupy
Posted in
All Designs
,
I) Wrestling Wallpapers
,
J&J Security
,
Jamie Noble
,
Joey Mercury
,
Seth Rollins
,
Stephanie McMahon
,
The Authority
,
Triple H
Tags:
I) Wrestling Wallpapers
,
J&J Security
,
Jamie Noble
,
Joey Mercury
,
Seth Rollins
,
Stephanie McMahon
,
The Authority
,
Triple H
,
wrestling
,
WWE
,
WWE Wallpapers