It has been a long while since I posted a new wrestling wallpaper here @ KWW..but don't worry, I'll surely make up for the lost time. And here's the start of that promise – a brand spankin' new Nexus We Are One wallpaper! Wade Barrett is doing a masterful job of being the Nexus leader. Even though David Otunga has been leading a coup lately, Wade pretty much ended it by having the entire group turn their backs on Otunga on last Monday's RAW. I think the whole thing was just a disciplinary act for the rebellious Otunga and he should still remain a Nexus member.
Barrett is slowly but surely entering the main event scene. He may have not had an immediate impact like Sheamus did or the mega push Miz has been receiving lately, but this one's for sure: Wade is quickly building a promising career and will be an important WWE main eventer down the road. For now, he's Nexus and so as Heath Slater, Justin Bieber Gabriel, David Otunga, Michael McGillicutty and Husky Harris. The Nexus version 2 may not be as good as the original one, but they're here to stay..and stay dominant.
You're either Nexus or you're against us! Inspired by the recent release of the new Nexus t-shirt design, Kupy Wrestling Wallpapers is bringing to you Nexus' "We Are One" wallpaper! Download this WWE wallpaper today!
Disclaimer: Images of Nexus logo and members belong to and are copyrighted to/by WWE. There is no copyright infringement intended.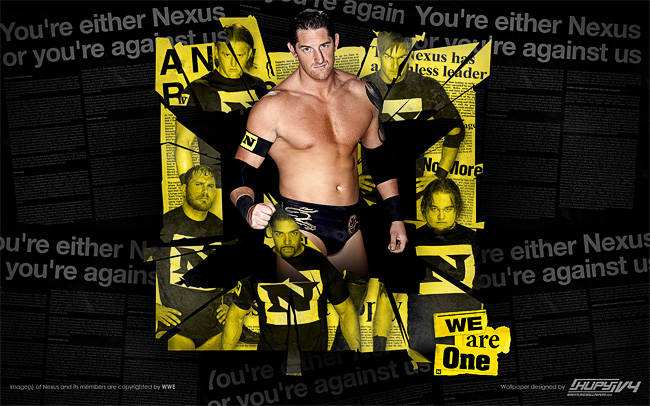 We are One – Nexus wallpaper
1920×1200 | 1680×1050 | 1600×900 | 1280×1024 | 1024×768 / iPad | 800×600 | PSP wallpaper | iPod Touch / iPhone wallpaper | 3D wallpaper
Posted on December 19th, 2010 at 11:52 am by Mr. Kupy
Posted in
All Designs
,
Bad News Barrett
,
Curtis Axel
,
David Otunga
,
Heath Slater
,
Husky Harris
,
I) Wrestling Wallpapers
,
Justin Gabriel
,
Nexus
Tags:
David Otunga
,
Heath Slater
,
Husky Harris
,
I) Wrestling Wallpapers
,
Justin Gabriel
,
Michael McGillicutty
,
Nexus
,
Wade Barrett
,
wrestling
,
WWE
,
WWE Wallpapers