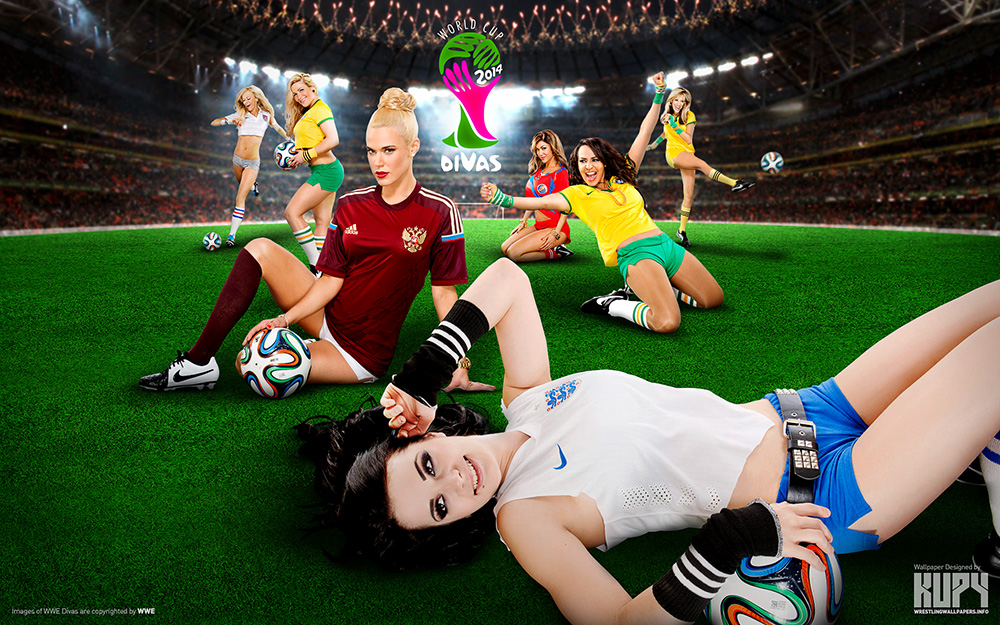 WWE Divas World Cup wallpaper
1920×1200 | 1920×1080 | 1680×1050 | 1600×900 | 1440×900 | 1280×1024 | 1280×800 | 1024×768 / iPad / Tablet | PS Vita wallpaper | PSP wallpaper | Mobile / iPod Touch / iPhone wallpaper | iPhone 5 wallpaper | iPhone 5s wallpaper | Facebook Timeline Cover
2014 Fifa World Cup is coming to an end with Germany and Argentina scheduled to face each other in the finals in just a few hours. Of course, WWE joins the fever by holding a photoshoot featuring WWE Divas in soccer uniforms. There's just something about chicks in soccer uniforms, right? And you just can't go wrong with this lineup of Summer, Lilian, Natalya, Rosa, Layla, Lana and Paige. It would've been cool (or hotter?) if AJ was included in this shoot too though.
Get this special Divas wallpaper celebrating the World Cup fever! Like Kupy Wrestling Wallpapers on Facebook!
Disclaimer: Images of WWE Divas belong to and are copyrighted to/by WWE. There is no copyright infringement intended.
Posted on July 13th, 2014 at 6:51 pm by Mr. Kupy
Posted in
All Designs
,
I) Wrestling Wallpapers
,
Lana
,
Layla El
,
Lilian Garcia
,
Natalya
,
Paige
,
Rosa Mendes
,
Summer Rae
,
WWE Divas
Tags:
I) Wrestling Wallpapers
,
Lana
,
Layla
,
Lilian Garcia
,
Natalya
,
Paige
,
Rosa Mendes
,
Summer Rae
,
wrestling
,
WWE
,
WWE Divas
,
WWE Wallpapers