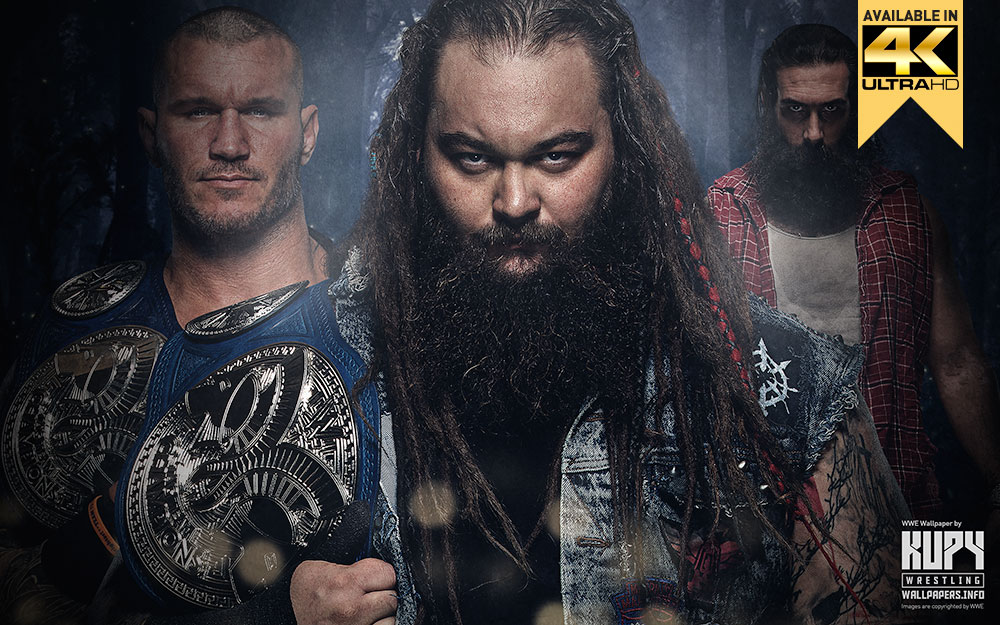 Smackdown Live Tag Team Champions Wyatt Family wallpaper
4K wallpaper | 2560×1600 | 2560 x1440 | 1920×1200 | 1920×1080 | 1680×1050 | 1600×900 | 1440×900 | 1366×768 | 1280×1024 | 1280×800 | 1024×768 / iPad / Tablet | iPhone 6S Plus / 6S / 5S / Android mobile wallpaper | PS Vita wallpaper | Facebook Timeline Cover
Originally rumored to be a short unholy alliance, the Orton-Wyatts pairing have effectively made Bray & Luke relevant again. Randy will always be Randy, hitting that RKO out of nowhere and getting cheered whether he's face or heel. The Wyatts though, they got lost in the shuffle, even after getting a fresh start in SmackDown. Now, after getting that much-needed win for SmackDown in the 5-on-5 Survivor Series matchup, they've found their footing again. Even if WWE is teasing tension between the three of them, with Luke getting 'jealous' of Bray's treatment of Randy, the Wyatts are working like a cohesive unit and that's bad news for SmackDown Live's tag team division, just ask Heath Slater and Rhyno. Those titles won't be going anywhere soon until Randy Orton finally turns on Bray Wyatt and finish their feud once and for all.
How long will this version of the Wyatt Family last? Is Randy really planning to break the Wyatt Family from the inside or was that put aside for now?
Download the Wyatt Family-Randy Orton wallpaper now!
Follow Kupy Wrestling Wallpapers on Instagram | Like Kupy Wrestling Wallpapers on Facebook
Disclaimer: Images belong to and are copyrighted to/by WWE. There is no copyright infringement intended.
Posted on December 12th, 2016 at 6:01 pm by Mr. Kupy
Posted in
All Designs
,
Bray Wyatt
,
I) Wrestling Wallpapers
,
Luke Harper
,
Randy Orton
,
Wyatt Family
Tags:
4k wallpaper
,
Bray Wyatt
,
HD wallpaper
,
I) Wrestling Wallpapers
,
Luke Harper
,
mobile wallpaper
,
Randy Orton
,
wrestling
,
WWE
,
WWE Smackdown
,
WWE Wallpapers
,
Wyatt Family