Nexus is under new management. It's CM Punk's group now.
Things were going badass until Justin Gabriel and Heath Slater, together with Ezekiel Jackson,  joined Wade Barrett on Smackdown, forming their own Nexus. In my opinion, CM Punk's group got weakened by it. The beatdowns will be there..but signature part of those beatdowns are no longer existent. Yup, I'm talking about Justin Gabriel's 450 splash. I guess it'll be up to Punk's GTS to finish those beatdowns. They should probably add another or two members to make this current Nexus a bit more intimidating. Four members just don't cut it for me. Nonetheless, this new angle looks pretty bright with CM Punk leading the Nexus. Surely, David Otunga, Michael McGillicutty and Husky Harris will benefit from Punk's guidance (and mean streak). I wouldn't be surprise if this current Nexus will act more heelish than ever instead of being constantly scared by Cena. Also, this looks like an NWO-style war between CM Punk's and Wade Barrett's Nexus.  A WrestleMania 27 match pitting Zeke, Gabriel and Slater versus Otunga, McGillicutty and Harris should probably happen..and with more members too please. That would be awesome.
Kupy Wrestling Wallpapers brings to you this WWE wallpaper featuring the new Nexus shirt design (with a few tweaks)! Download this wrestling wallpaper now!
Disclaimer: Logos of CM Punk and Nexus belong to and are copyrighted to/by WWE. There is no copyright infringement intended.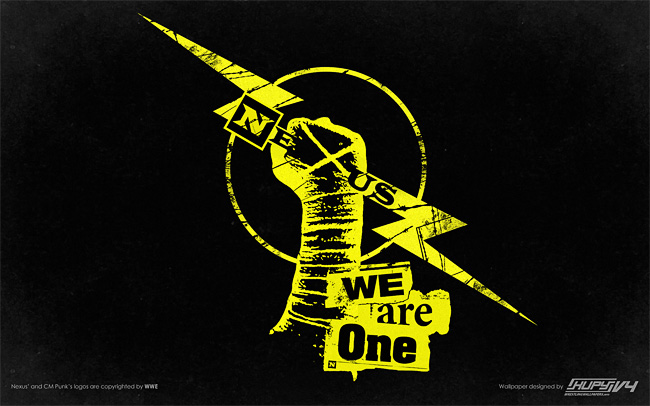 We Are One – CM Punk's Nexus wallpaper
1920×1200 | 1680×1050 | 1600×900 | 1280×1024 | 1024×768 / iPad | 800×600 | PSP wallpaper | iPod Touch / iPhone wallpaper | 3D wallpaper
Posted on January 16th, 2011 at 2:50 am by Mr. Kupy
Posted in
All Designs
,
CM Punk
,
Curtis Axel
,
David Otunga
,
Husky Harris
,
I) Wrestling Wallpapers
,
Nexus
Tags:
CM Punk
,
David Otunga
,
Husky Harris
,
I) Wrestling Wallpapers
,
Michael McGillicutty
,
Nexus
,
wrestling
,
WWE
,
WWE Wallpapers