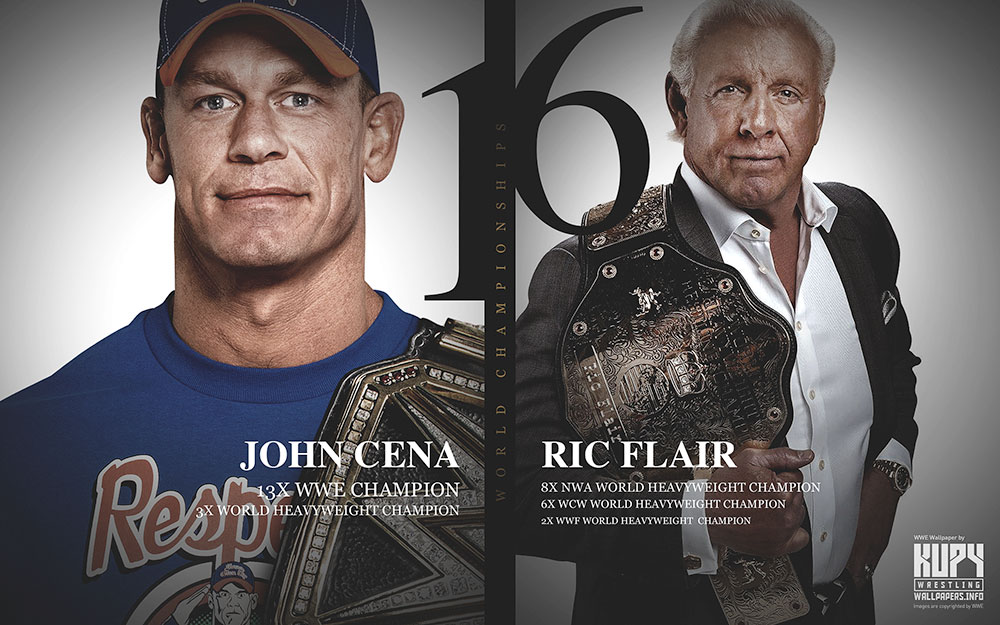 Ric Flair and John Cena 16x World Champions wallpaper
1920×1200 | 1920×1080 | 1680×1050 | 1600×900 | 1440×900 | 1366×768 | 1280×1024 | 1280×800 | 1024×768 / iPad / Tablet | iOs / Android mobile wallpaper – John Cena | iOs / Android mobile wallpaper – Ric Flair | PS Vita wallpaper | Facebook Timeline Cover
After defeating former WWE Champion AJ Styles at the Royal Rumble, John Cena finally tied Ric Flair in World Championships won in the wrestling industry. A monumental feat indeed.
Rumor has it though that Mr. Hustle, Loyalty and Respect will have his 16th reign cut short at the Elimination Chamber by Bray Wyatt to set up the Wyatt vs. Orton WrestleMania 33 clash since Cena vs. Orton for the nth time isn't really as intriguing as it was almost a decade ago. Or maybe AJ Styles regains the WWE Championship and will have it defended against RKO. Either way, it looks like John isn't going to WrestleMania as champ. A bit ironic and weird considering this is his 16th World Championship reign and should be a bigger deal than what the rumors suggest.
As tribute to these 2 incredible champions, Kupy Wrestling Wallpapers is bringing to you this wallpaper featuring both 16x World Champions, John Cena and Ric Flair!
Follow Kupy Wrestling Wallpapers on Instagram | Like Kupy Wrestling Wallpapers on Facebook
Disclaimer: Images belong to and are copyrighted to/by WWE. There is no copyright infringement intended.
Posted on February 5th, 2017 at 7:51 pm by Mr. Kupy
Posted in
All Designs
,
I) Wrestling Wallpapers
,
John Cena
,
Ric Flair
Tags:
HD wallpaper
,
I) Wrestling Wallpapers
,
John Cena
,
mobile wallpaper
,
Ric Flair
,
wrestling
,
WWE
,
WWE Wallpapers