I understand why Kurt Angle had to turn heel. Bobby Roode needs to beat a huge and credible main eventer at BFG to solidify his ascent to the top as the new TNA World Heavyweight Champion. Angle is best suited for that role.
Bobby has been riding an incredible amount of momentum for months now. If there's one thing TNA can proudly showcase right now, it's Bobby's main event push. He's ready for it. It's really his time now. I applaud TNA for getting this one right. Roode looks really humbled by this, real life and storyline-wise. I specially like the video they aired last Thursday's Impact Wrestling showing how this opportunity has affected Roode and his family. It not only gives a lot of meaning to the title but for every wrestler in the TNA roster and their families as well. This is exactly how championships matches should be treated, especially how it affects a wrestler who will be getting his/her first shot at glory. Well done TNA!
With that said, Kupy Wrestling Wallpapers gives to you this TNA Bound for Glory wallpaper featuring the World Heavyweight Championship match between Kurt Angle and Robert "Bobby" Roode! Take a shot at glory with this TNA wallpaper today!
Disclaimer: Images of Kurt Angle, Bobby Roode, TNA World Heavyweight Championship belt and Bound for Glory belong to and is copyrighted to/by TNA. There is no copyright infringement intended.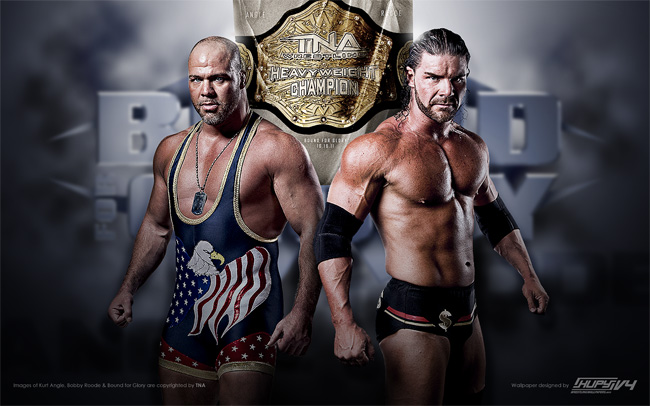 TNA Bound for Glory 2011: TNA World Heavyweight Championship Kurt Angle (c) vs. Robert Roode wallpaper
1920×1200 | 1680×1050 | 1600×900 | 1440×900 | 1280×1024 | 1280×800 | 1024×768 / iPad / Tablet | 800×600 | PS Vita wallpaper | PSP wallpaper | Mobile / iPod Touch / iPhone wallpaper | 3D wallpaper
Posted on October 3rd, 2011 at 4:13 pm by Mr. Kupy
Posted in
All Designs
,
I) Wrestling Wallpapers
,
Kurt Angle
,
Robert Roode
Tags:
Bobby Roode
,
I) Wrestling Wallpapers
,
Kurt Angle
,
Robert Roode
,
TNA
,
TNA Bound for Glory
,
TNA Wallpapers
,
wrestling