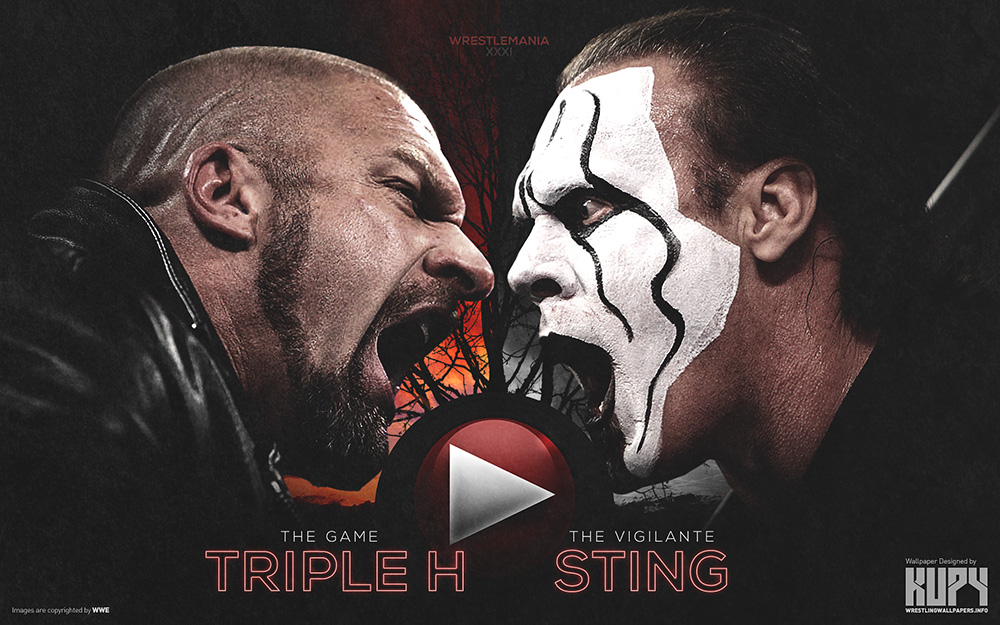 "The Vigilante vs. The Game" WrestleMania 31: Sting vs. HHH wallpaper
1920×1200 | 1920×1080 | 1680×1050 | 1600×900 | 1440×900 | 1280×1024 | 1280×800 | 1024×768 / iPad / Tablet | PS Vita wallpaper | iPhone 6 Plus wallpaper | iPhone 6 wallpaper | iPhone 5s wallpaper | iPhone 5 wallpaper | Facebook Timeline Cover
Sting's part-time appearances isn't helping this feud get hot..until last week Monday when he appeared alongside Randy Orton and took out The Authority. I must say that was one of the best RAW endings..EVER. When used right, Sting's appearances are a thing of beauty. They just need to keep this up this coming RAW and finally give the WWE fans something to be really excited for at the Showcase of the Immortals since it's pretty obvious that Sting's going to go over after whipping HHH's ass. It won't be an easy victory for sure but it's already a given that his first (and last?) WWE match should end up in a win right? I do hope though that this isn't The Vigilante's last match since Undertaker is just right around the corner. A face-off at WrestleMania 31 would be totally effin' LEGENDARY.
Here's the epic HHH vs. Sting WrestleMania 31 WWE wallpaper for free so what are you waiting for? Download it now!
Like Kupy Wrestling Wallpapers on Facebook!
Disclaimer: All images belong to and are copyrighted to/by WWE. There is no copyright infringement intended.
Posted on March 23rd, 2015 at 6:14 pm by Mr. Kupy
Posted in
All Designs
,
I) Wrestling Wallpapers
,
Sting
,
Triple H
,
WrestleMania 31
Tags:
I) Wrestling Wallpapers
,
Sting
,
Triple H
,
WrestleMania
,
WrestleMania 31
,
wrestling
,
WWE
,
WWE Wallpapers