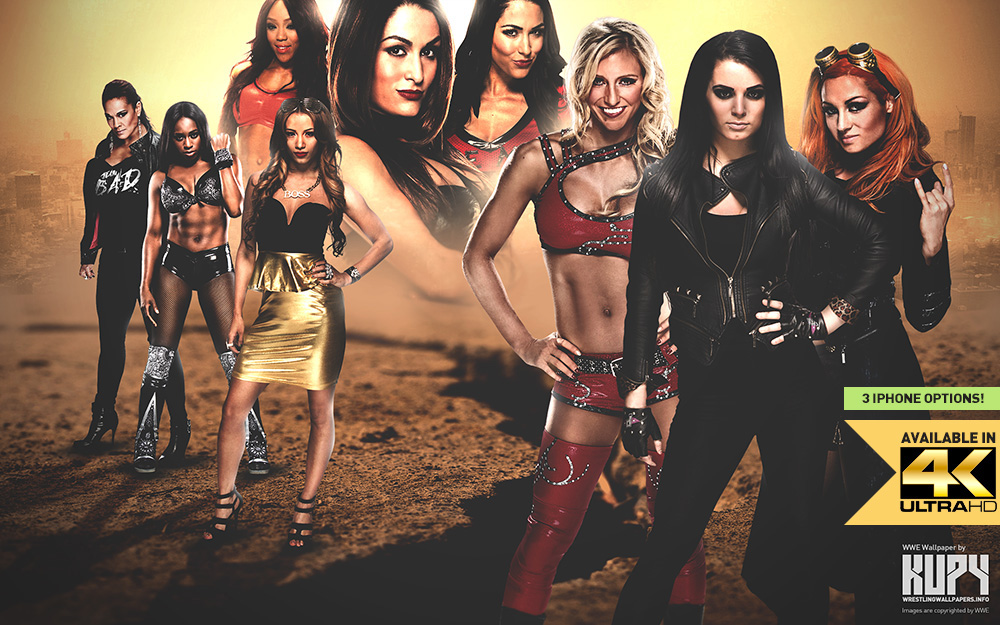 WWE NXT Divas Revolution wallpaper
4K wallpaper | 1920×1200 | 1920×1080 | 1680×1050 | 1600×900 | 1440×900 | 1280×1024 | 1280×800 | 1024×768 / iPad / Tablet | PS Vita wallpaper | iPhone Team Paige wallpaper | iPhone Team B.A.D. wallpaper | iPhone Team Bella wallpaper | Facebook Timeline Cover
The battle lines have been drawn. The WOMEN's division has been shaken up. And it was awesome.
Last Monday Night RAW, we finally saw a glimpse of hope for the Divas division when the NXT fearsome trio of Becky Lynch, Charlotte and NXT Women's Champion Sasha Banks made their much-anticipated debuts. Sasha aligned herself with Naomi and Tamina, calling their group as Team B.A.D (Best At Dominating) this past Smackdown while Charlotte and Becky joined forces with Paige. They all have common motives though – to dethrone Team Bella and bring long-overdue respect and excitement to the WWE Divas division. We can finally expect bigger and better things from these women of wrestling. Given proper time on women's matches, everyone pretty much agrees that this current crop of WWE Divas can tear the house down, just like how Charlotte, Sasha and Becky solidified women's wrestling in NXT. Go girls!
The Women's wrestling revolution has started. Support them by downloading the newest WWE Divas wallpaper now.
*Note: In the spirit of shaking things up, this wallpaper has 3 iPhone versions: 1 for Team Paige, 1 for Team BAD and 1 for Team Bella. All compatible from iPhone 6 Plus down to iPhone 4/4S/5/5S. 🙂
Like Kupy Wrestling Wallpapers on Facebook!
Disclaimer: All images belong to and are copyrighted to/by WWE. There is no copyright infringement intended.
Posted on July 19th, 2015 at 7:59 pm by Mr. Kupy
Posted in
Alicia Fox
,
All Designs
,
Brie Bella
,
Charlotte
,
I) Wrestling Wallpapers
,
Naomi
,
Nikki Bella
,
Paige
,
Sasha Banks
,
Tamina Snuka
,
Team BAD
,
Team Bella
,
Team Paige
Tags:
Alicia Fox
,
Becky Lynch
,
Bella Twins
,
Brie Bella
,
Charlotte
,
I) Wrestling Wallpapers
,
Naomi
,
Nikki Bella
,
NXT
,
NXT Divas
,
NXT wallpaper
,
Paige
,
Sasha Banks
,
Tamina Snuka
,
Team BAD
,
Team Bella
,
Team Paige
,
wrestling
,
WWE
,
WWE Divas
,
WWE Wallpapers