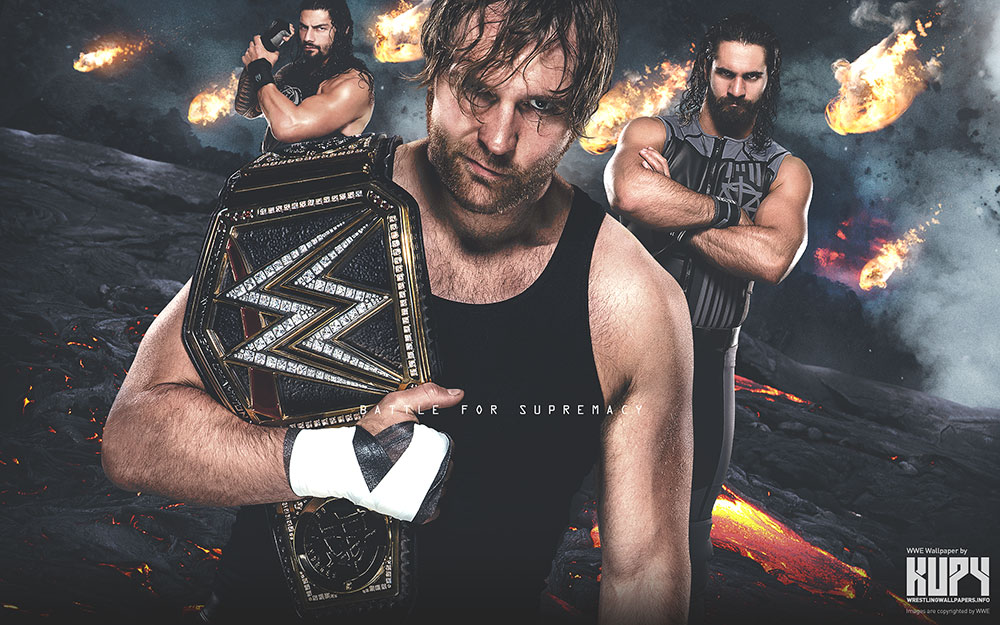 Battleground 2016: Dean Ambrose (c) vs. Seth Rollins vs. Roman Reigns for the WWE Championship wallpaper
1920×1200 | 1920×1080 | 1680×1050 | 1600×900 | 1440×900 | 1366×768 | 1280×1024 | 1280×800 | 1024×768 / iPad / Tablet | iPhone 6S Plus / 6S / 5S / Android mobile wallpaper | PS Vita wallpaper | Facebook Timeline Cover
It has come full circle for these 3, with Dean Ambrose defending his WWE Championship (not WWEWHC anymore) against his former Shield teammates Seth Rollins and Roman Reigns. This championship match could've been saved for SummerSlam but I guess WWE has other plans. Nonetheless, it'll be interesting what happens here moving forward since this might be the last time, for this year at least, we'll see them fight in a triple threat match for the WWE Championship.
The Lunatic Champion has been made to look strong so far, regardless of rumors that he'll be dropping the title to either of the 2 challengers before SummerSlam. The impending draft also complicates things for these 3 WWE Superstars although there's always that possibility of having all 3 in the same brand but that's almost wishful thinking. Another tricky part here is what Roman Reigns we'll see after serving a 1 month suspension. Does he finally makes that much-needed heel turn or will he play a redemption angle and claim back the WWE Championship? Meanwhile, Seth Rollins has been on a roll (no pun intended) lately. I'd love to see him walk out as champ if Dean won't retain the title. The Architect might be a heel right now but WWE is obviously prepping him for a big babyface run. That run could be more effective if he has the WWE Championship.
Get this Shield-theme wallpaper today! This is basically a remake of my previous Shield wallpaper 4 years ago (similar right?). With Battleground probably a perfect setting for these 3 to collide, I decided to have this wallpaper done similar to that previous design. Hope you guys like it!
Follow Kupy Wrestling Wallpapers on Instagram | Like Kupy Wrestling Wallpapers on Facebook
Disclaimer: Images belong to and are copyrighted to/by WWE. There is no copyright infringement intended.
Posted on July 12th, 2016 at 6:13 am by Mr. Kupy
Posted in
All Designs
,
Dean Ambrose
,
I) Wrestling Wallpapers
,
Roman Reigns
,
Seth Rollins
,
The Shield
Tags:
Dean Ambrose
,
HD wallpaper
,
I) Wrestling Wallpapers
,
mobile wallpaper
,
Roman Reigns
,
Seth Rollins
,
The Shield
,
wrestling
,
WWE
,
WWE Wallpapers