WrestleMania 27 is 1 week away! Are you guys ready for the biggest wrestling PPV of the year? Lock your seat belts because we'll be in for a roller coaster ride with these main event matches! The World Heavyweight Championship match features the Rated R Superstar, Edge versus the brash Alberto Del Rio. For the WWE Championship match, it's the man of awesome, The Miz against Mr. Hustle, Loyalty and Respect (and not talented enough accdg. to The Rock), John Cena. And the match that will probably end WrestleMania 27, it's the Game, Triple H challenging the Last Outlaw, The Undertaker with his WrestleMania Streak on the line. Pretty solid main event matches if you ask me. If Christian somehow gets included in the WHC match, not only will this wallpaper fail, but it would ruin the Alberto's mega push because this is his time to shine and he needs this to be a one-on-one match against Edge to solidify his position on the main event ranks. It wouldn't hurt Christian though (and in the past few weeks, it seems like he was the Royal Rumble winner and not Del Rio) so it can really go either way for me.
As for the WWE Championship match, hopefully we'll be treated to some Rock interference or post-match brawl between these 3 WWE Superstars. Ever since Rock came back, you can't deny that this feud got a much-needed boost. Both Miz and Cena are benefiting from this hot angle right now. Continue this until Summerslam and fans will surely dig this 3-way feud. Lastly, the chances of Triple H winning against Undertaker is ZERO. NO ONE IS GONNA BREAK THE STREAK. Triple H is gonna 'die' trying.
With all that said, Kupy Wrestling Wallpapers brings to you the latest Wrestlemania 27 wallpaper featuring the triple main event matches that will make WrestleMania 27 a must-watch not only for WWE fans, but to ALL wrestling fans as well. Download the free wallpaper today!
Disclaimer: Images/Logos of WWE Superstars and WrestleMania 27 belong to and are copyrighted to/by WWE. There is no copyright infringement intended.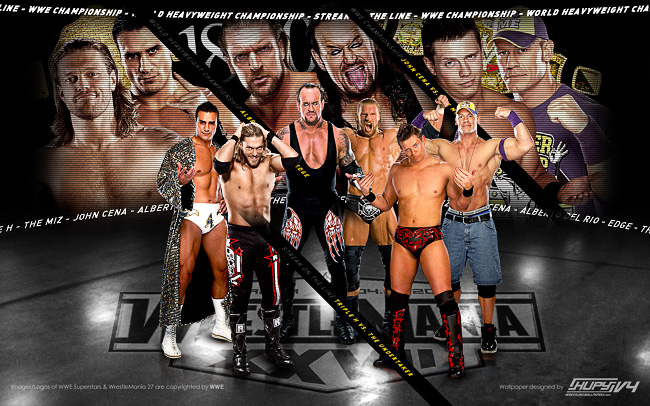 Road to WrestleMania 27: Edge(c) vs. Alberto Del Rio, Undertaker vs. Triple H and The Miz(c) vs. John Cena wallpaper
1920×1200 | 1680×1050 | 1600×900 | 1280×1024 | 1280×800 | 1024×768 / iPad | 800×600 | PSP wallpaper | 3D wallpaper
Posted on March 26th, 2011 at 3:07 am by Mr. Kupy
Posted in
Alberto Del Rio
,
All Designs
,
Edge
,
I) Wrestling Wallpapers
,
John Cena
,
The Miz
,
The Undertaker
,
Triple H
,
WrestleMania 27
Tags:
Alberto Del Rio
,
Edge
,
I) Wrestling Wallpapers
,
John Cena
,
The Miz
,
The Undertaker
,
Triple H
,
WrestleMania
,
WrestleMania 27
,
wrestling
,
WWE
,
WWE Wallpapers