The rematch of these two WWE titans is going to be a slobberknocker of a fight. The no holds barred stipulation added more hot fuel to the feud. With Triple H looking to extract revenge against The Pain, Brock Lesnar, we're now more guaranteed of a classic brawl/hardcore match instead of just having a straight wrestling bout. The first encounter was quite forgettable to be honest so whatever the outcome of this fight, at the end of the night, we'll be looking at a possible show-stealer. As for the winner, well, it's almost a guarantee that HHH will finally score a win against Lesnar after having his arm broken twice and his father-in-law destroyed by the former UFC fighter. Before winning though, look for Triple H to get his ass kicked big time first (you can say the same for Brock Lesnar too). Will Heyman or Shawn Michaels play a significant role on the outcome of this match? Most likely, yes. And don't forget not to count out HHH's best friend. Here's a clue: it's not HBK 😉
Kupy Wrestling Wallpapers brings to you another WrestleMania 29 wallpaper featuring The Game, Triple H versus The Pain, Brock Lesnar! Just a few days left before we reach the pinnacle of sports entertainment!
Disclaimer: Images of Triple H, Brock Lesnar, Shawn Michaels, Paul Heyman & WrestleMania 29 belong to and is copyrighted to/by WWE. There is no copyright infringement intended.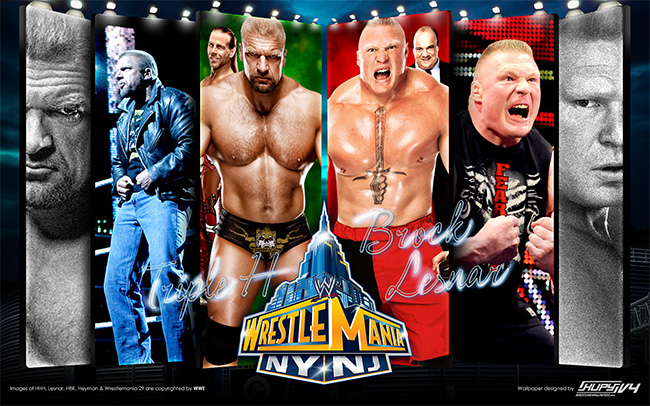 Brock Lesnar (w/ Paul Heyman) vs. Triple H (w/ Shawn Michaels) WrestleMania 29 wallpaper
1920×1200 | 1920×1080 | 1680×1050 | 1600×900 | 1440×900 | 1280×1024 | 1280×800 | 1024×768 / iPad / Tablet | PS Vita wallpaper | PSP wallpaper | Mobile / iPod Touch / iPhone wallpaper | iPhone 5 wallpaper | 3D wallpaper | Facebook Timeline Cover
Posted on April 2nd, 2013 at 5:02 pm by Mr. Kupy
Posted in
All Designs
,
Brock Lesnar
,
I) Wrestling Wallpapers
,
Paul Heyman
,
Shawn Michaels
,
Triple H
,
WrestleMania 29
Tags:
Brock Lesnar
,
I) Wrestling Wallpapers
,
Paul Heyman
,
Shawn Michaels
,
Triple H
,
WrestleMania
,
WrestleMania 29
,
wrestling
,
WWE
,
WWE Wallpapers