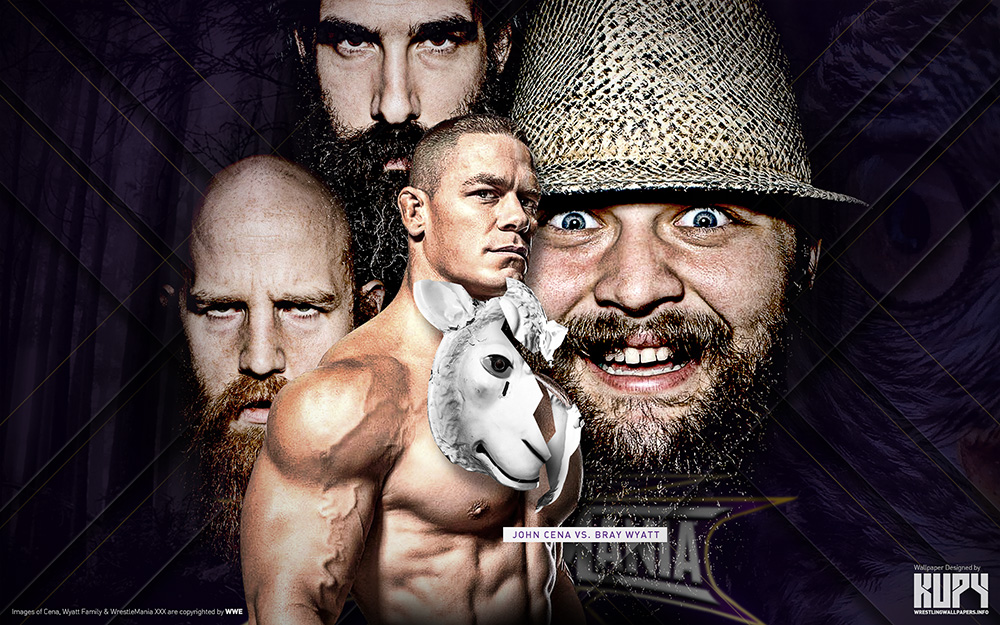 WrestleMania 30: John Cena vs. Bray Wyatt wallpaper
1920×1200 | 1920×1080 | 1680×1050 | 1600×900 | 1440×900 | 1280×1024 | 1280×800 | 1024×768 / iPad / Tablet | PS Vita wallpaper | PSP wallpaper | Mobile / iPod Touch / iPhone wallpaper | iPhone 5 wallpaper | iPhone 5s wallpaper | Facebook Timeline Cover
The Eater of Worlds has nothing but trouble for John Cena. These past few weeks, Bray Wyatt has masterfully controlled the pace against John Cena. All the mind games and the beatdowns, you can say that it has been one-sided so far. With Cena acting as the one holding the torch, it may only be a matter of time before Bray forcefully takes that torch away from John. Will WrestleMania 30 be that stage or will John Cena, once again, rise to the occasion and prove to the world that he's still the top dog. You can always expect a Cena comeback in any of his feuds..but will the Wyatt Family finally put a stop to that? We'll see if they can on April.
Kupy Wrestling Wallpapers brings to you the the latest WrestleMania 30 wallpaper featuring the Cenation leader, John Cena against the head of the Wyatt family, Bray Wyatt!
Please like Kupy Wrestling Wallpapers on Facebook!
Disclaimer: Images of John Cena, the Wyatt Family & WrestleMania 30 belong to and are copyrighted to/by WWE. There is no copyright infringement intended.
Posted on March 31st, 2014 at 3:51 am by Mr. Kupy
Posted in
All Designs
,
Bray Wyatt
,
Erick Rowan
,
I) Wrestling Wallpapers
,
John Cena
,
Luke Harper
,
WrestleMania 30
,
Wyatt Family
Tags:
Bray Wyatt
,
Erick Rowan
,
I) Wrestling Wallpapers
,
John Cena
,
Luke Harper
,
WrestleMania
,
WrestleMania 30
,
wrestling
,
WWE
,
WWE Wallpapers
,
Wyatt Family