Is it Ryback's time to be on top of the foodchain? I think yes. FEED HIM MORE!
There's a lot of debate goin' on right now regarding the Big Hungry's quick, mega push to the WWE Championship scene. Some say he doesn't deserve his spot right now, which to a certain degree I may have to agree..and some say that it doesn't matter because everyone is slowly getting behind him nowadays. Whatever the case may be, for me, as long as he can draw money, ratings and prominence for WWE, I'm all for him being the next WWE Champion. CM Punk's reign has been impressive yes but when you look at the situation, it's a lose-lose situation for both competitors since Sunday may mark the end of Punk's 300+ day reign as WWE Champ OR it may mark the end of Ryback's potential to be the next big star if he loses. If anyone can take a hit, it's CM Punk and I truly believe he'll be WWE Champion again in the next few months especially The Rock is coming back soon. For now, I think it's Ryback's time. WWE put themselves in this position, now they must back Ryback's push up.
Kupy Wrestling Wallpapers brings a quick wallpaper featuring two of the most talked about WWE Superstars today, CM Punk and Ryback battling for the WWE Championship this Sunday at WWE Hell in a Cell. Will it be the Best in the World reigning supreme and continuing his WWE Championship run..or will it be the  Mr. Feed Me More? Find out this Sunday by ordering the PPV! For now, get this newest WWE wallpaper first!

Disclaimer: Images of CM Punk, Ryback and WWE Championship belong to and are copyrighted to/by WWE. There is no copyright infringement intended.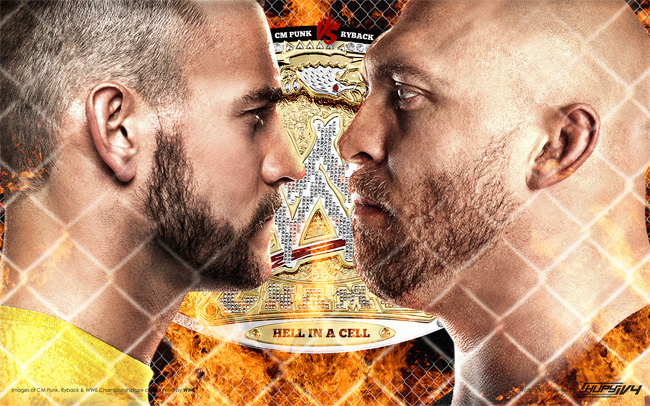 HIAC WWE Championship: CM Punk(c) vs. Ryback wallpaper
1920×1200 | 1920×1080 | 1680×1050 | 1600×900 | 1440×900 | 1280×1024 | 1280×800 | 1024×768 / iPad / Tablet | PS Vita wallpaper | PSP wallpaper | Mobile / iPod Touch / iPhone wallpaper | iPhone 5 wallpaper | 3D wallpaper | Facebook Timeline Cover
Posted on October 24th, 2012 at 4:50 pm by Mr. Kupy
Posted in
All Designs
,
CM Punk
,
I) Wrestling Wallpapers
,
Ryback
,
WWE Hell in a Cell
Tags:
CM Punk
,
I) Wrestling Wallpapers
,
Ryback
,
WWE
,
WWE Hell in a Cell
,
WWE Wallpapers