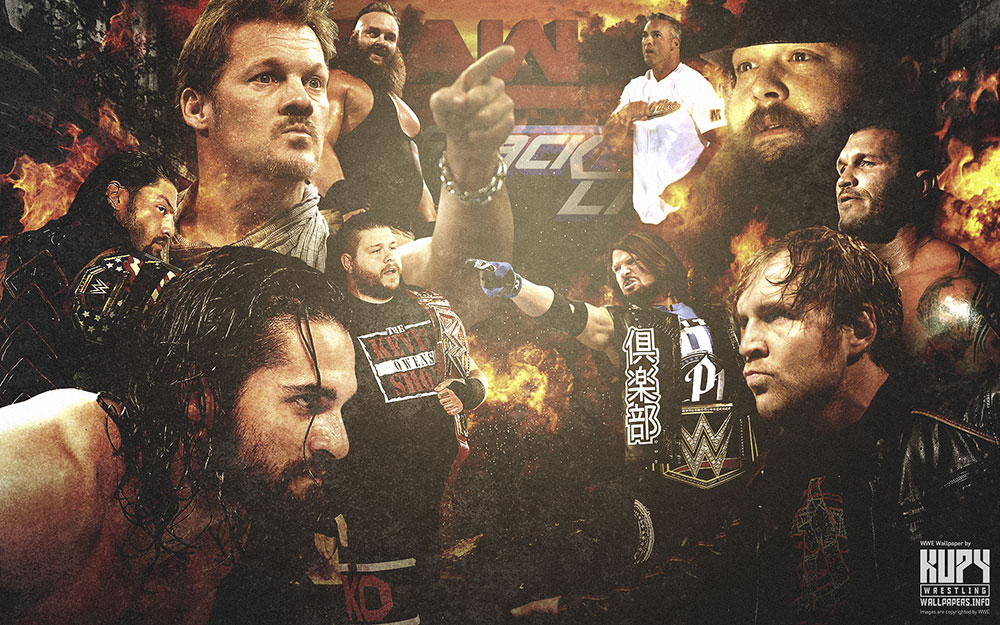 RAW vs. SmackDown Live Survivor Series 2016 wallpaper
1920×1200 | 1920×1080 | 1680×1050 | 1600×900 | 1440×900 | 1366×768 | 1280×1024 | 1280×800 | 1024×768 / iPad / Tablet | Team RAW iPhone 6S Plus / 6S / 5S / Android mobile wallpaper | Team SmackDown Live iPhone 6S Plus / 6S / 5S / Android mobile wallpaper | PS Vita wallpaper | Facebook Timeline Cover
RAW vs. SmackDown. It's a renewed rivalry between WWE's premier shows after being on hiatus for a couple of years now. Bragging rights for the winning team/show will be on the line (unofficially) and these 2 teams will do everything in their power to get that privilege to call themselves the best.
Team RAW consists of the BFFs Kevin Owens and Chris Jericho, the US Champ Roman Reigns, Braun Strowman and Seth Rollins while Team SmackDown Live has AJ Styles, the new Wyatts Bray and Randy Orton, Dean Ambrose and Shane McMahon. I dunno, Baron Corbin should have been there instead of Shane but I guess there's some major storyline that which involves him that gets kickstarted on Survivor Series. Rumors say it has something to do with Brock Lesnar. We'll see.
I'm honestly excited to see this match. As for the winning team, since SmackDown has been the better show for weeks now, I'm betting on the blue brand though a win is what RAW really needs right now.
Download the wallpaper today in your preferred resolution (links at the top of this post).
Follow Kupy Wrestling Wallpapers on Instagram | Like Kupy Wrestling Wallpapers on Facebook
Disclaimer: Images belong to and are copyrighted to/by WWE. There is no copyright infringement intended.
Posted on November 14th, 2016 at 7:43 pm by Mr. Kupy
Posted in
AJ Styles
,
All Designs
,
Braun Strowman
,
Bray Wyatt
,
Chris Jericho
,
Dean Ambrose
,
I) Wrestling Wallpapers
,
Kevin Owens
,
Randy Orton
,
Roman Reigns
,
Seth Rollins
,
Shane McMahon
,
WWE Raw
,
WWE Smackdown
,
WWE Survivor Series
Tags:
AJ Styles
,
Braun Strowman
,
Bray Wyatt
,
Chris Jericho
,
Dean Ambrose
,
HD wallpaper
,
I) Wrestling Wallpapers
,
Kevin Owens
,
mobile wallpaper
,
Randy Orton
,
Roman Reigns
,
Seth Rollins
,
Shane McMahon
,
SmackDown Live
,
wrestling
,
WWE
,
WWE Raw
,
WWE Survivor Series
,
WWE Wallpapers