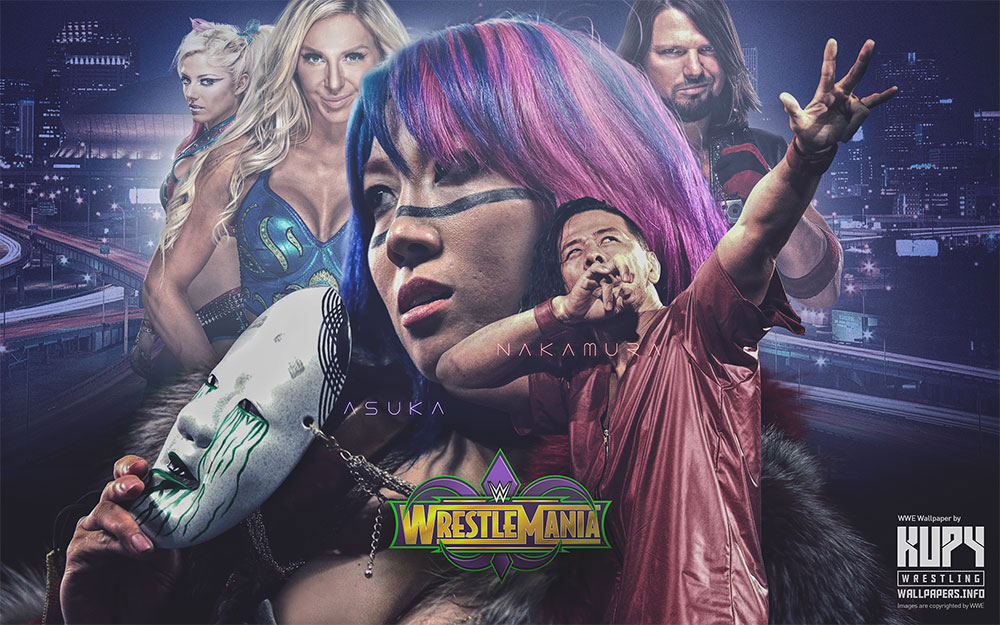 Royal Rumble 2018 winners Asuka & Shinsuke Nakamura WrestleMania 34 wallpaper
16:9 / HD: 1920×1080 | 1600×900 | 1366×768
16:10: 1920×1200 | 1680×1050 | 1440×900 | 1280×800
iPad: Tablet / iPad wallpaper
Mobile (Asuka): Android / iPhone mobile wallpaper | Android QHD mobile wallpaper / S8+ / Note 8
Mobile (Shinsuke Nakamura): Android / iPhone mobile wallpaper | Android QHD mobile wallpaper / S8+ / Note 8
Facebook: Facebook Timeline Cover
All-Japan duo Asuka and Shinsuke Nakamura have etched their names in Royal Rumble and WrestleMania histories by winning their respective Rumble matches this year, ensuring both WWE Superstars to be in the co-main events at WrestleMania 34. Nakamura vs. Styles is a dream match we all know that. As for Asuka, we're still guessing as to what Womens Championship she'll be gunning for – Alexa Bliss' RAW Womens Championship or Charlotte's SmackDown Womens Championship. Asuka vs. Charlotte is super intriguing but I think WWE should hold that off until WrestleMania 35. Let Asuka dominate RAW for now, have Charlotte win the Rumble next year and then go after Asuka's championship title.
As for AJ Styles vs. Shinsuke Nakamura, it'd be interesting if the King of Strong Style turns heel on the way to WrestleMania 34. Most likely it won't happen, but that would certainly intensify their feud. Don't just base it on mutual respect. Have Shin ruffle AJ's feathers a bit at least. Either way, we're about to see a dream match come true, on WWE grounds.
UPDATE: So yeah I have to admit I didn't notice the edits I made somehow had Asuka looked like she had a nip slip in this wallpaper. Just to clear things up, this Asuka image directly came from WWE's website. The HDR effects probably had something to do with it looking like a nip slip. Thanks everyone in FB and IG who pointed it out. Changes have been made already. Guess I wasn't also ready for that Asuka.
Follow Kupy Wrestling Wallpapers on Instagram | Like Kupy Wrestling Wallpapers on Facebook
Disclaimer: Image(s) belong to and are copyrighted to/by WWE. There is no copyright infringement intended.
Posted on February 5th, 2018 at 3:11 pm by Mr. Kupy
Posted in
AJ Styles
,
Alexa Bliss
,
All Designs
,
Asuka
,
Charlotte
,
I) Wrestling Wallpapers
,
Shinsuke Nakamura
,
WrestleMania 34
Tags:
AJ Styles
,
Alexa Bliss
,
Asuka
,
Charlotte
,
I) Wrestling Wallpapers
,
mobile wallpaper
,
Shinsuke Nakamura
,
WrestleMania
,
WrestleMania 34
,
wrestling
,
WWE
,
WWE Wallpapers