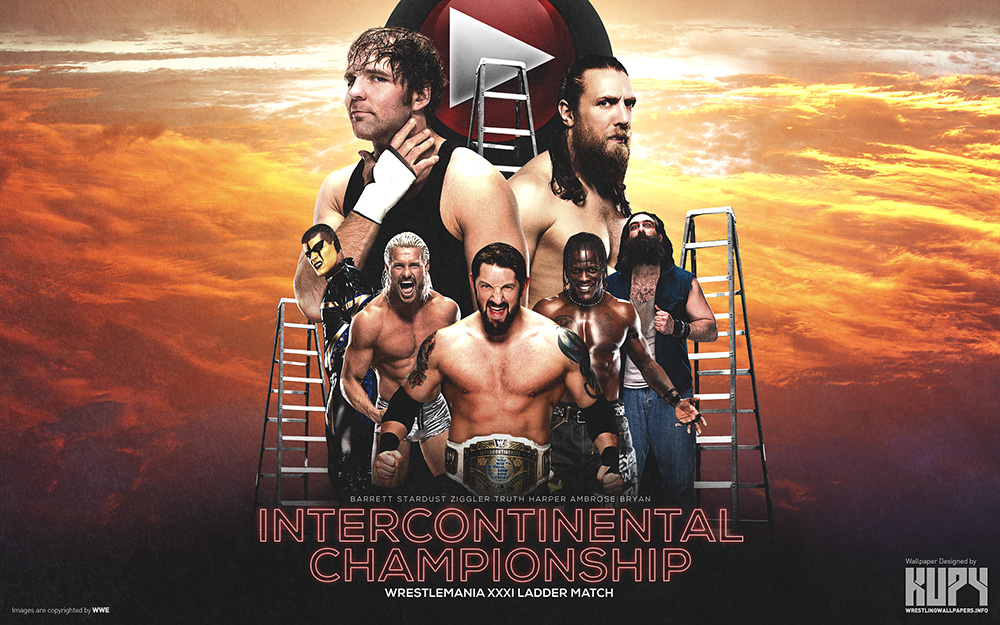 Ladder Match for the Intercontinental Championship @ WrestleMania 31 wallpaper
1920×1200 | 1920×1080 | 1680×1050 | 1600×900 | 1440×900 | 1280×1024 | 1280×800 | 1024×768 / iPad / Tablet | PS Vita wallpaper | iPhone 6 Plus wallpaper | iPhone 6 wallpaper | iPhone 5s wallpaper | iPhone 5 wallpaper | Facebook Timeline Cover
What's your honest opinion about this match? While the build has been horrendous, with the IC title being treated like a toy or even a hot potato, the match itself has the most potential to steal the show. It's Bad News Barrett defending HIS Intercontinental Championship in a 7-man ladder match against these challengers: Dolph Ziggler, R-Truth, Stardust, Luke Harper, Dean Ambrose and Daniel Bryan. With that lineup of star power for this match, you can expect something big and memorable moment will be done. You can't even question the match quality as far as talent goes.
So who's your pick to win the IC title? IMO, it's going to be either Daniel Bryan or Dean Ambrose, both of which can bring prestige back to this championship title.
It's the Intercontinental Championship Ladder Match WrestleMania 31 WWE wallpaper for free download!
Like Kupy Wrestling Wallpapers on Facebook!
Disclaimer: All images belong to and are copyrighted to/by WWE. There is no copyright infringement intended.
Posted on March 29th, 2015 at 9:01 am by Mr. Kupy
Posted in
All Designs
,
Bad News Barrett
,
Cody Rhodes
,
Daniel Bryan
,
Dean Ambrose
,
Dolph Ziggler
,
I) Wrestling Wallpapers
,
Luke Harper
,
R-Truth
,
Stardust
,
WrestleMania 31
Tags:
Bad News Barrett
,
Cody Rhodes
,
Daniel Bryan
,
Dean Ambrose
,
Dolph Ziggler
,
I) Wrestling Wallpapers
,
Luke Harper
,
R-Truth
,
Stardust
,
WrestleMania
,
WrestleMania 31
,
wrestling
,
WWE
,
WWE Wallpapers