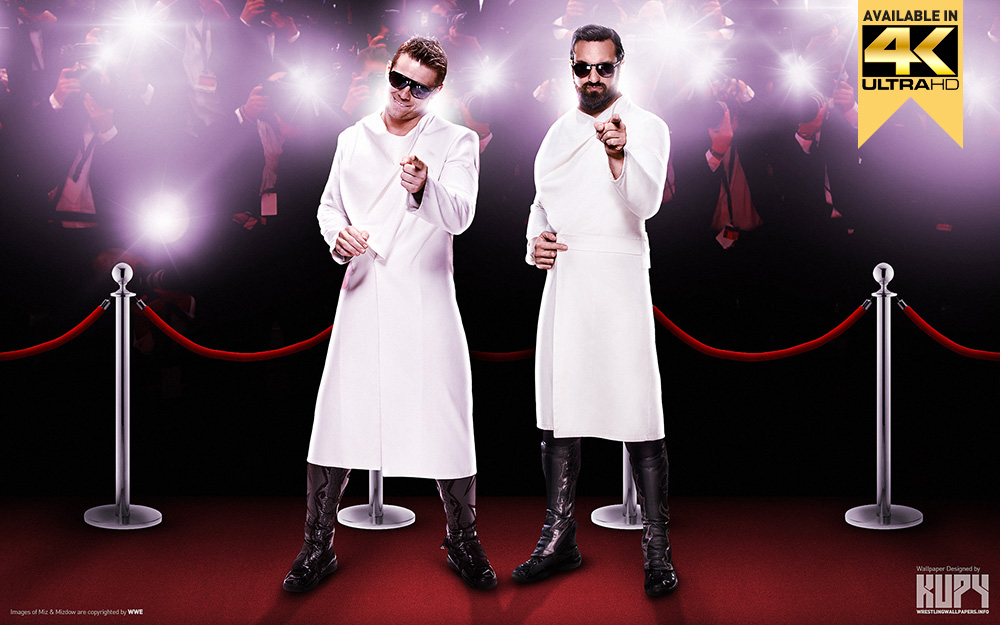 Mizdow & Miz wallpaper
4K wallpaper | 1920×1200 | 1920×1080 | 1680×1050 | 1600×900 | 1440×900 | 1280×1024 | 1280×800 | 1024×768 / iPad / Tablet | PS Vita wallpaper | PSP wallpaper | iPhone 6 Plus wallpaper | iPhone 6 wallpaper | iPhone 5s wallpaper | iPhone 5 wallpaper | Facebook Timeline Cover
It's pretty obvious lately that Damien "Miz"dow is more over than The Miz. The WWE Universe just loves him. A face turn might be on the horizon, but for now, I'm totally enjoying Mizdow's gimmick so I would love to to see it continue for a few more months. Damien has done a terrific job for such a shitty gimmick. He made it work. Kudos to him! As for The Miz, he's completely getting overshadowed by Mizdow. The added Hollywood gimmick got stale really quick and basically, he's back in the midcard hell with no real direction, aside from an eventual feud against his more over stuntman. If there's anyone who pulled off the heel Hollywood persona very well, it was The Rock. Really miss that character.
Also, I'm pulling out the 640×960 resolution for good. Don't worry though. In place of it will be iPhone 6 and iPhone 6 Plus resolutions! This one's available in 4K resolution too 🙂 Download the WWE wallpaper now!
Like Kupy Wrestling Wallpapers on Facebook!
Disclaimer: Images of Miz & Mizdow belong to and are copyrighted to/by WWE. There is no copyright infringement intended.
Posted on November 9th, 2014 at 6:56 pm by Mr. Kupy
Posted in
All Designs
,
Damien Sandow
,
I) Wrestling Wallpapers
,
The Miz
Tags:
Damien Mizdow
,
Damien Sandow
,
I) Wrestling Wallpapers
,
The Miz
,
wrestling
,
WWE
,
WWE Wallpapers