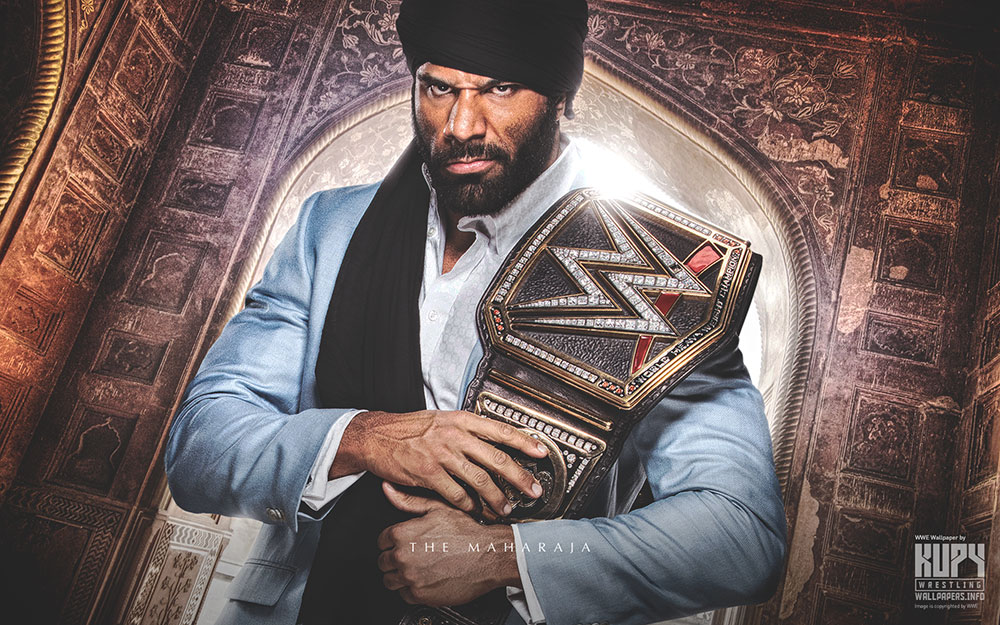 WWE Champion Jinder Mahal "The Maharaja" wallpaper
1920×1200 | 1920×1080 | 1680×1050 | 1600×900 | 1440×900 | 1366×768 | 1280×1024 | 1280×800 | 1024×768 / iPad / Tablet | iOs / Android mobile wallpaper | PS Vita wallpaper | Facebook Timeline Cover
We usually see WWE build up new stars, aside from the NXT call-ups, this time of the year. Last night we saw it again: Jinder Mahal in a monumental win against The Viper Randy Orton and finally becoming the new WWE Champion. As everybody knows, it was a tough road for him these past few years, mostly jobbing to other WWE Superstars. Now, The Maharaja has proven himself to be a solid heel, not so much of a main event talent yet but he's done good in his role so far. It was surprising to see him win the WWE Championship this early regardless of WWE's India expansion plans or change in his physical look. What's refreshing though is there's a new villain in town and is looking to prove that he belongs where he's at right now. As recent Jinder fans have said: "Don't Hinder Jinder".
Congratulations Jinder Mahal and India!
Follow Kupy Wrestling Wallpapers on Instagram | Like Kupy Wrestling Wallpapers on Facebook
Disclaimer: Images belong to and are copyrighted to/by WWE. There is no copyright infringement intended.
Posted on May 22nd, 2017 at 5:15 pm by Mr. Kupy
Posted in
All Designs
,
I) Wrestling Wallpapers
,
Jinder Mahal
Tags:
Android wallpapers
,
HD wallpaper
,
I) Wrestling Wallpapers
,
iPad wallpapers
,
iPhone wallpapers
,
Jinder Mahal
,
mobile wallpaper
,
wrestling
,
WWE
,
WWE Wallpapers