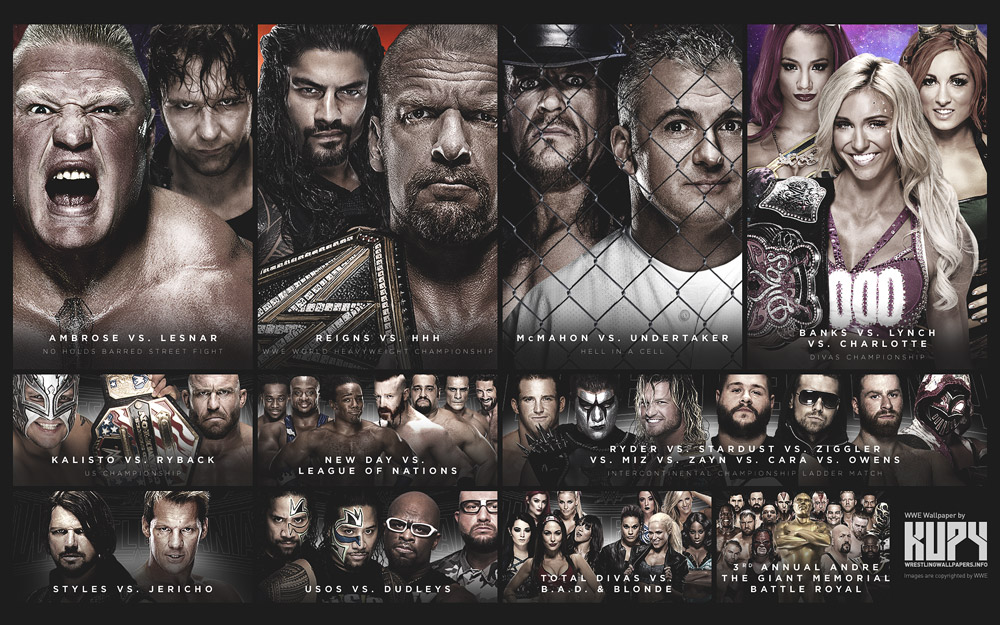 WrestleMania 32 wallpaper
1920×1200 | 1920×1080 | 1680×1050 | 1600×900 | 1440×900 | 1366×768 | 1280×1024 | 1280×800 | 1024×768 / iPad / Tablet | PS Vita wallpaper
The wait is almost over. WrestleMania 32 is just around the corner and most of us, myself included, are excited (yes, not everyone is haha). It's a top-heavy card, with a passable midcard but contains possible show-stealers like the IC ladder match and Styles-Jericho. Still confused as to why the LON-New Day match isn't for the Tag Titles. Rumors say The Rock will get involved in that match and to be frank, I don't know the logic behind that. Nonetheless, it's always electric to see The Great One. Stone Cold Steve Austin is scheduled to appear too. Will he get involved in one of the main events somehow?
It's either sink or swim for WrestleMania 32. Why? Other than a mediocre mid and lower card, the WWEWHC match is looking to be a disaster, with lots of fans booing Roman Reigns BIG TIME. Again, he has to turn heel before his character gets ruined for good. The HIAC match will be the most intriguing. On the brighter side, fans aren't expecting much from most of the matchups so it'll be the perfect time to surprise the doubters. New champs, huge upsets, unexpected twists and stars elevated – that's how WrestleMania 32 should be all about. Everyone on the roster has to pull all the stops to make this event memorable, in a good way.
Here's the final WrestleMania 32 WWE wallpaper. Kupy's going back to regular programming on April 🙂
Follow Kupy Wrestling Wallpapers on Instagram | Like Kupy Wrestling Wallpapers on Facebook
Disclaimer: Images belong to and are copyrighted to/by WWE. There is no copyright infringement intended.
Posted on March 30th, 2016 at 2:31 pm by Mr. Kupy
Posted in
Adam Rose
,
AJ Styles
,
Alberto Del Rio
,
Alicia Fox
,
All Designs
,
Bad News Barrett
,
Becky Lynch
,
Big E
,
Big Show
,
Bo Dallas
,
Brie Bella
,
Brock Lesnar
,
Bubba Ray Dudley
,
Charlotte
,
Chris Jericho
,
Cody Rhodes
,
Curtis Axel
,
D-Von Dudley
,
Damien Sandow
,
Darren Young
,
Dean Ambrose
,
Dolph Ziggler
,
Emma
,
Eva Marie
,
Fandango
,
Goldust
,
Heath Slater
,
I) Wrestling Wallpapers
,
Jack Swagger
,
Jey Uso
,
Jimmy Uso
,
Kalisto
,
Kane
,
Kevin Owens
,
Kofi Kingston
,
Konnor
,
Lana
,
League of Nations
,
Mark Henry
,
Naomi
,
Natalya
,
New Day
,
Paige
,
R-Truth
,
Roman Reigns
,
Rusev
,
Ryback
,
Sami Zayn
,
Sasha Banks
,
Shane McMahon
,
Sheamus
,
Sin Cara
,
Social Outcasts
,
Stardust
,
Summer Rae
,
Tamina Snuka
,
Team BAD
,
The Ascension
,
The Dudley Boyz
,
The Miz
,
The Undertaker
,
The Usos
,
Total Divas
,
Triple H
,
Tyler Breeze
,
Viktor
,
WrestleMania 32
,
WWE Divas
,
Xavier Woods
,
Zack Ryder
Tags:
Adam Rose
,
AJ Styles
,
Alberto Del Rio
,
Alicia Fox
,
Bad News Barrett
,
Becky Lynch
,
Big E
,
Big Show
,
Bo Dallas
,
Brie Bella
,
Brock Lesnar
,
Bubba Ray Dudley
,
Charlotte
,
Chris Jericho
,
Curtis Axel
,
D-Von Dudley
,
Damien Sandow
,
Darren Young
,
Dean Ambrose
,
Dolph Ziggler
,
Emma
,
Eva Marie
,
Fandango
,
Goldust
,
Heath Slater
,
I) Wrestling Wallpapers
,
Jack Swagger
,
Jay Uso
,
Jimmy Uso
,
Kalisto
,
Kane
,
Kevin Owens
,
Kofi Kingston
,
Konnor
,
Lana
,
League of Nations
,
Mark Henry
,
Naomi
,
Natalya
,
New Day
,
Paige
,
R-Truth
,
Roman Reigns
,
Rusev
,
Ryback
,
Sami Zayn
,
Sasha Banks
,
Shane McMahon
,
Sheamus
,
Sin Cara
,
Social Outcasts
,
Stardust
,
Summer Rae
,
Tamina Snuka
,
Team BAD
,
The Ascension
,
The Dudley Boyz
,
The Miz
,
The Undertaker
,
The Usos
,
Total Divas
,
Triple H
,
Tyler Breeze
,
Viktor
,
WrestleMania
,
WrestleMania 32
,
wrestling
,
WWE
,
WWE Divas
,
WWE Wallpapers
,
Xavier Woods
,
Zack Ryder