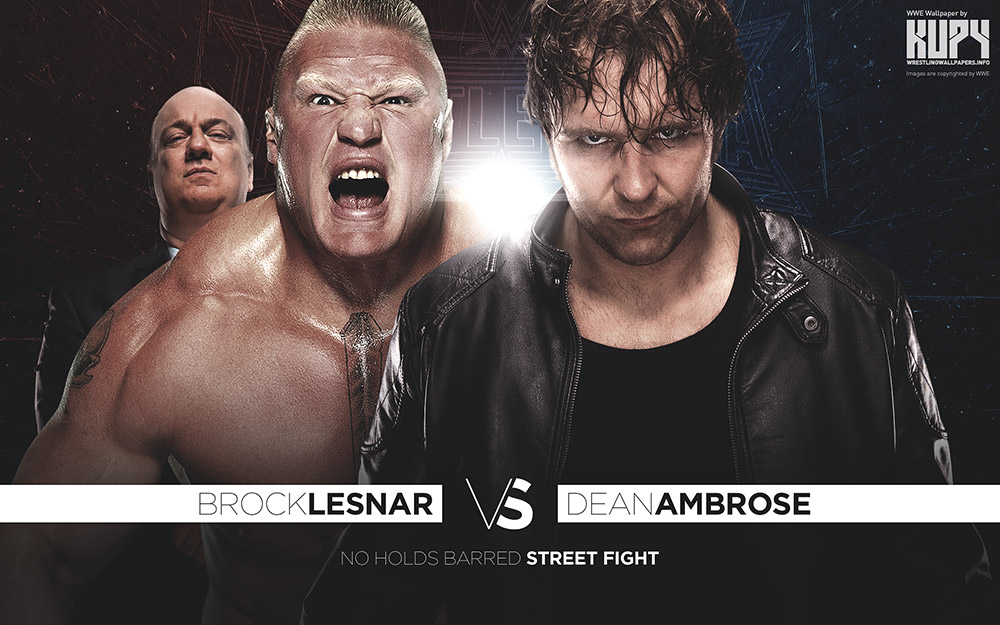 No Holds Barred Street Fight: Ambrose vs. Lesnar WrestleMania 32 wallpaper
1920×1200 | 1920×1080 | 1680×1050 | 1600×900 | 1440×900 | 1366×768 | 1280×1024 | 1280×800 | 1024×768 / iPad / Tablet | PS Vita wallpaper | iPhone 6S Plus/ 6S / 5S wallpaper | Facebook timeline Cover
WrestleMania 32 just got more violent. The Beast, Brock Lesnar will be going up against the Lunatic Fringe, Dean Ambrose in a No Holds Barred Street Fight match! I mean, wow. I know Ambrose will get his ass whooped all over Dallas, and that makes it very interesting because we'd be seeing if he can somehow take down Lesnar despite the overwhelming disadvantage. Seeing these two tear each other apart (well, probably more one-sided in favor of Brock) at the Grandest Stage of them All will be pure joy, regardless of the outcome. Dean's gotta pull one huge miracle and having the match in a street fight *might* help his cause though you can also make a case that it'll be more dangerous with The Beast going all out on him, with or without weapons.
Start the WrestleMania 32 fever with this WWE wallpaper now! Lesnar vs. Ambrose, no holds barred @ WrestleMania 32!
Follow Kupy Wrestling Wallpapers on Instagram | Like Kupy Wrestling Wallpapers on Facebook
Disclaimer: Images belong to and are copyrighted to/by WWE. There is no copyright infringement intended.
Posted on February 25th, 2016 at 7:39 pm by Mr. Kupy
Posted in
All Designs
,
Brock Lesnar
,
Dean Ambrose
,
I) Wrestling Wallpapers
,
Paul Heyman
,
WrestleMania 32
Tags:
Brock Lesnar
,
Dean Ambrose
,
I) Wrestling Wallpapers
,
Paul Heyman
,
WrestleMania 32
,
wrestling
,
WWE
,
WWE Wallpapers