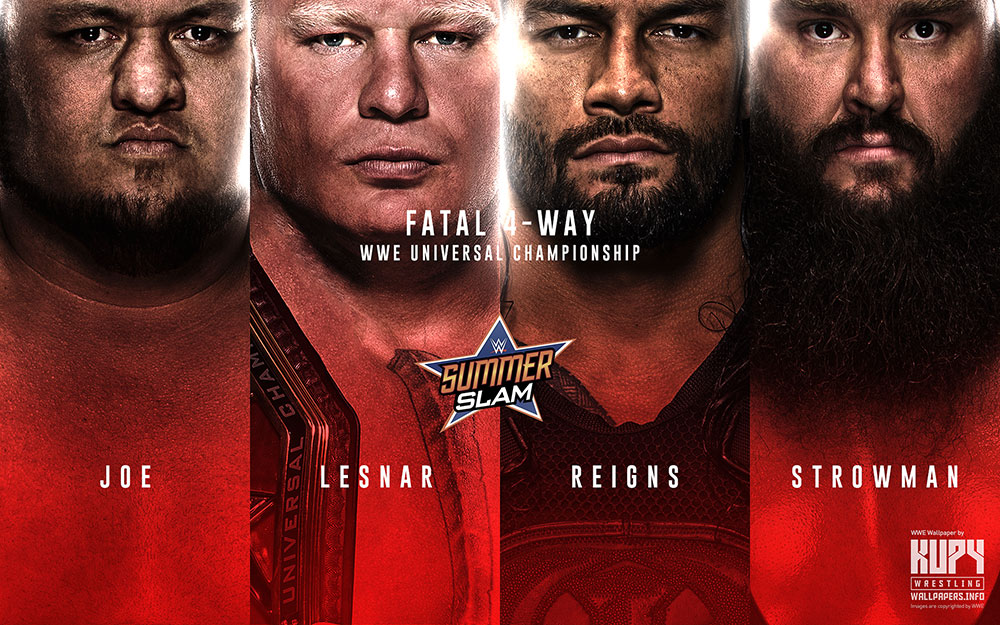 2017 WWE SummerSlam: Fatal 4-Way WWE Universal Championship wallpaper
1920×1200 | 1920×1080 | 1680×1050 | 1600×900 | 1440×900 | 1366×768 | 1280×800 | 1024×768 / iPad / Tablet | iOs / Android mobile wallpaper | Facebook Timeline Cover
If there's anything common between these 4 heavyweights, it is destruction. The feud intertwining Brock Lesnar, Samoa Joe, Roman Reigns and Braun Strowman has been superb and definitely deserves the main event of this year's SummerSlam. Sorry Mahal and Nakamura, the last match should be a total destruction of epic proportions that only these 4 men can pull off.
As for the winner, I just hope Lesnar drops the belt, even if it means Roman Reigns winning. But if I'm gonna pick someone, it should be Braun Strowman as he has been spectacular this year. He's deserving of the top spot and will put legitimacy back again to RAW's Universal Championship.
Follow Kupy Wrestling Wallpapers on Instagram | Like Kupy Wrestling Wallpapers on Facebook
Disclaimer: Image(s) belong to and are copyrighted to/by WWE. There is no copyright infringement intended.
Posted on August 14th, 2017 at 5:41 pm by Mr. Kupy
Posted in
All Designs
,
Braun Strowman
,
Brock Lesnar
,
I) Wrestling Wallpapers
,
Roman Reigns
,
Samoa Joe
,
WWE SummerSlam
Tags:
Braun Strowman
,
Brock Lesnar
,
HD wallpaper
,
I) Wrestling Wallpapers
,
mobile wallpaper
,
Roman Reigns
,
Samoa Joe
,
wrestling
,
WWE
,
WWE SummerSlam
,
WWE Wallpapers