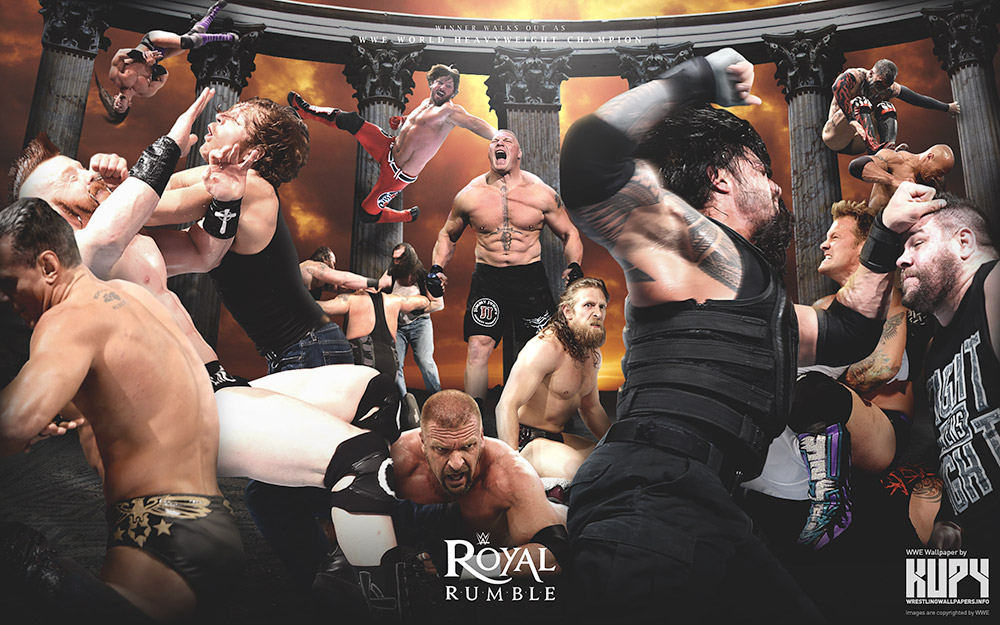 2016 Royal Rumble wallpaper
2560×1600 | 2560×1440 | 1920×1200 | 1920×1080 | 1680×1050 | 1600×900 | 1440×900 | 1366×768 | 1280×1024 | 1280×800 | 1024×768 / iPad / Tablet | PS Vita wallpaper | iPhone 6S Plus/ 6S / 5S wallpaper | Facebook timeline Cover
The first WWE wallpaper of 2016 here at Kupy Wrestling Wallpapers is none other than the 2016 Royal Rumble wallpaper! I know I know it's a bit late since the event will commence in just a few hours so I'm sorry about that. At least I was able to make the deadline 😛
Roman Reigns entering at no. 1 didn't surprise any. A lot of people would be surprised though if he doesn't win the Rumble since it looks like the WWE World Heavyweight Championship defense stipulation was made to make him look very strong heading into WrestleMania 32. With the Triple H feud looming in the background though, there's a realistic chance that Roman's loses the title to The Game himself and will result to a championship match at WrestleMania. I do hope that this isn't the route WWE will go for. We need that BIG surprise. A new champ perhaps in the form of Kevin Owens? Or the sure star power bet Brock Lesnar? Daniel Bryan? What about AJ Styles winning the championship in his first day at work? There are tons of possibilities WWE can explore so that they can garner intrigue and interest on their way to WrestleMania season.
Or we can just sit back and enjoy the show later. Good times ahead!
Follow Kupy Wrestling Wallpapers on Instagram | Like Kupy Wrestling Wallpapers on Facebook
Disclaimer: Images belong to and are copyrighted to/by WWE. There is no copyright infringement intended.
Posted on January 24th, 2016 at 6:24 pm by Mr. Kupy
Posted in
AJ Styles
,
Alberto Del Rio
,
Big Show
,
Braun Strowman
,
Bray Wyatt
,
Brock Lesnar
,
Chris Jericho
,
Daniel Bryan
,
Dean Ambrose
,
Finn Balor
,
I) Wrestling Wallpapers
,
Kevin Owens
,
League of Nations
,
Luke Harper
,
Neville
,
Roman Reigns
,
Sheamus
,
The Rock
,
Triple H
,
WWE Royal Rumble
,
Wyatt Family
Tags:
AJ Styles
,
Alberto Del Rio
,
Big Show
,
Braun Strowman
,
Bray Wyatt
,
Brock Lesnar
,
Chris Jericho
,
Dean Ambrose
,
Finn Balor
,
I) Wrestling Wallpapers
,
Kevin Owens
,
League of Nations
,
Luke Harper
,
Neville
,
Roman Reigns
,
Sheamus
,
The Rock
,
wrestling
,
WWE
,
WWE Royal Rumble
,
WWE Wallpapers
,
Wyatt Family