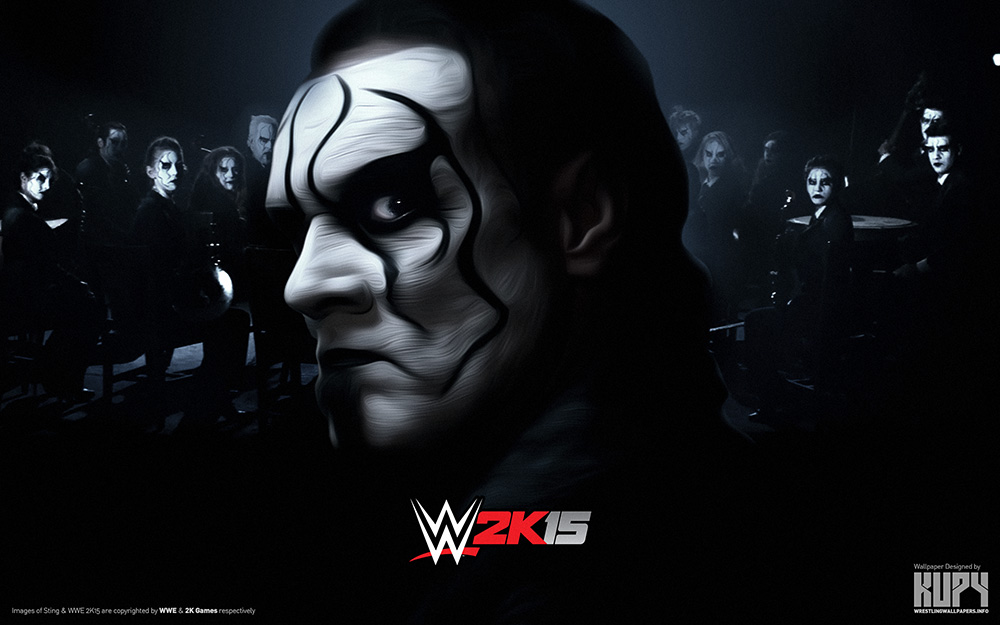 WWE 2K15 Sting wallpaper
1920×1200 | 1920×1080 | 1680×1050 | 1600×900 | 1440×900 | 1280×1024 | 1280×800 | 1024×768 / iPad / Tablet | PS Vita wallpaper | PSP wallpaper | Mobile / iPod Touch / iPhone wallpaper | iPhone 5 wallpaper | iPhone 5s wallpaper | Facebook Timeline Cover
After the cryptic 7-14-14 message, WWE finally confirms WWE 2K15's newest addition to its roster – the man they call Sting! Boy did I mark out when I saw that awesome video. With Sting finally onboard, it's only a matter of time before we see him in an actual ring. Of course, I'm talking about a possible "Phenom vs. Icon" Undertaker-Sting matchup at WrestleMania 31 next year. For now though, this will satisfy that dream. Sting's inclusion is reason enough for any WWE fan to pre-order WWE 2K15. There will be 2 Stings in this iteration: the Surfer Sting and Crow Sting personas.
So before you pre-order WWE 2K15, download this WWE 2K15 wallpaper first, commemorating Sting's debut in a WWE video game. It's Showtime!
Like Kupy Wrestling Wallpapers on Facebook!
Disclaimer: Images of Sting & WWE 2K15 belong to and are copyrighted to/by WWE and 2K Games respectively. There is no copyright infringement intended.
Posted on July 15th, 2014 at 3:37 pm by Mr. Kupy
Posted in
All Designs
,
I) Wrestling Wallpapers
,
IV) Videogame Wallpapers
,
Sting
,
WWE 2K15
Tags:
I) Wrestling Wallpapers
,
Sting
,
videogame wallpaper
,
wrestling
,
WWE
,
WWE 2K15
,
WWE Wallpapers