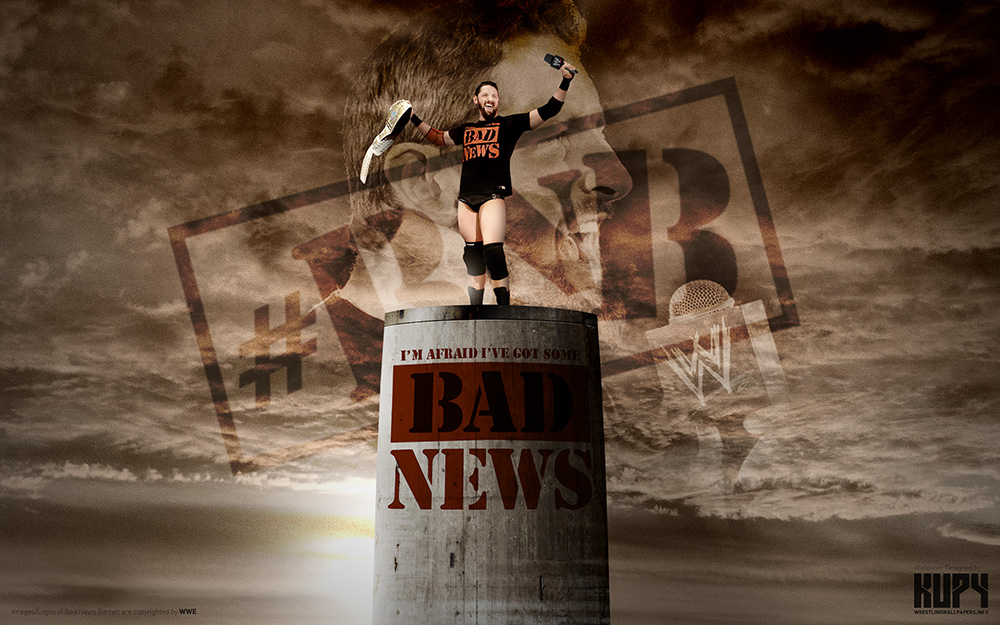 Bad News Barrett "I'm Afraid I've Got Some Bad News" wallpaper
1920×1200 | 1920×1080 | 1680×1050 | 1600×900 | 1440×900 | 1280×1024 | 1280×800 | 1024×768 / iPad / Tablet | PS Vita wallpaper | PSP wallpaper | Mobile / iPod Touch / iPhone wallpaper | iPhone 5 wallpaper | iPhone 5s wallpaper | Facebook Timeline Cover
I'm afraid I've got some…GOOD news, especially for Wade Barrett fans. Yep, a brand-spankin' new #BNB wallpaper! BOOM!
Bad News Barrett has a lot of momentum going and I gotta admit, it's pretty cool to see him finally nail a gimmick that works best for him. This persona started slow for him but eventually picked up and garnered steam, even allowing him to win the Intercontinental Championship and became relevant again. With the Daniel Bryan injury situation looking bleak, I wouldn't be surprised if he gets pushed to the roof in just a month or two. The fans are behind him and he's contributing quality matches in the midcard division. One bull hammer to a prominent main eventer or perhaps one from The Authority and you've got your next big thing.
Here's Kupy Wrestling Wallpapers providing everyone again a new WWE wallpaper featuring the bringer of bad news, Bad News Barrett!
Like Kupy Wrestling Wallpapers on Facebook!
Disclaimer: Images and logos of Bad News Barrett belong to and are copyrighted to/by WWE. There is no copyright infringement intended.